Ron Paul: Al-Qaeda would benefit most from Syria chemical attack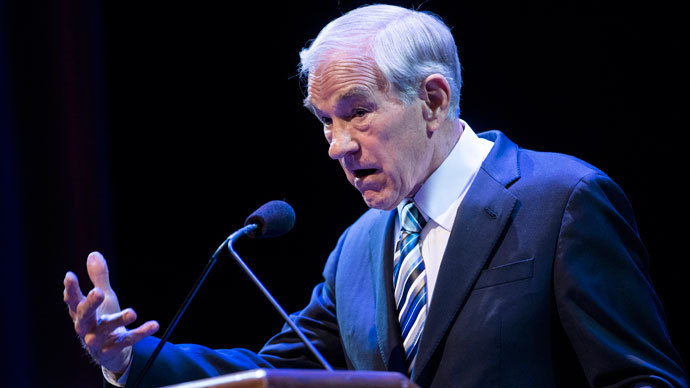 Former congressman Ron Paul says the United States should avoid escalating its involvement in the Syrian civil war any further because the US will be on the way to aiding Al-Qaeda if it continues to assist opposition fighters.
"We are not really positive who set off the gas," Paul, a long-time Republican lawmaker for Texas in the US House of Representatives, said during a Fox News interview filmed Wednesday about the reported use of chemical weapons by Syrian President Bashar al-Assad.

"The group that is most likely to benefit from that is Al-Qaeda. They ignite some gas, some people die and blame it on Assad," he said.

In the conversion with Fox host Neil Cavuto, Paul said Americans should avoid buying into any propaganda about the escalating war in Syria and warned that the repercussions of using military force could be tremendous, especially without enough evidence to justify an attack.

Instead of concentrating on the role of al-Assad and his reported use of chemical weapons on civilians, Paul said the US should investigate other factions in the Middle East. Of particular concern, he insisted, are the Al-Qaeda extremists who have aligned with rebel fighters to take on the Assad regime.
"The implication is that Assad committed 100,000 killings," Paul told Fox News host Neil Cavuto during an interview filmed Wednesday. "There are a lot of factions out there, why don't we ask about the Al-Qaeda? Why are we on the side of the Al-Qaeda right now? So I think they want the weapons. The rebels want the weapons. There's a bunch of people in there and Al-Qaeda is part of it and this is the test for us to drop a couple of bombs and then send in weapons."
"Assad, I don't think, is an idiot," Paul continued. "I don't think he would do this on purpose in order for the whole world to come down on him."
Paul said he opposed plans to strike Syria to reprimand Assad if intelligence proves he gassed innocent civilians, and that aligning the US military with anyone involved in the civil war was a big risk that could escalate quickly in terms of seriousness.
"What if there is an accident and 100 Russians get killed by our bombs? Who knows? Some type of unintended consequences. Wars always expand because of unintended consequences. They always provide short term war. Just think of all the promises over in Iraq: Short term; not much money; it's over; we'll get that oil. And don't believe it," he said.
"We should look at what's best for America. And not trying to pick sides in an impossible war like this won't be on the side of the American people. And the American people, by a very large majority, are opposed to this war. The Constitution can't support this war and morally we can't support this war, getting involved in a civil war and a strife that's been going on in that region for thousands of years," he said.
The congressman, a medical doctor who previously ran unsuccessfully for the office of US president, added that he thought the information about Assad being response for the chemical weapons is a "false flag."
The US Department of State is expected to announce later on Friday the results of an intelligence report which may link Assad to a gassing outside of Damascus, Syria last week that killed hundreds of civilians. If the government can prove Assad responsible for the attack, the White House said a military strike was not out of the question. Meanwhile, the US has mobilized no fewer than five warships to the Mediterranean and is considering a number of military options that the White House said won't involve putting any American boots on the ground.
You can share this story on social media: