Ron Paul reveals plan to save $1 trillion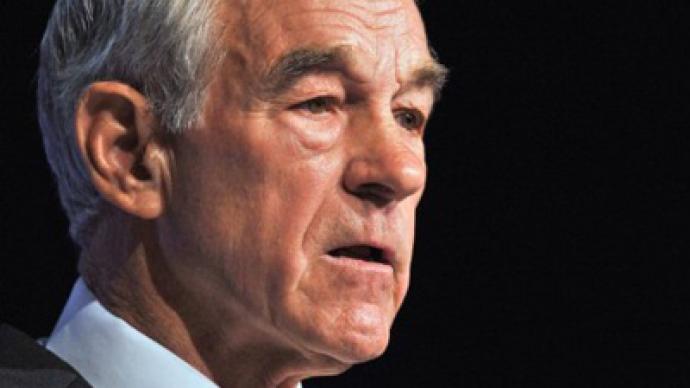 With the United States only going deeper and deeper into debt, GOP presidential hopeful and Texas Congressman Ron Paul says he can cut spending by $1 trillion during his first year in the oval office, according to a new economic outline.
Dubbed the "Restore America" plan, Rep. Paul formally introduced his economic agenda this afternoon in Las Vegas, a day before the congressman is scheduled to partake in the latest televised debate of the Republican presidential candidates. While Paul's plan is slated to include several issues popular with his GOP rivals, including abolishing the education and energy departments, the candidate also says he will cut the president's salary down to just a fraction and trim the administrative cabinet down tremendously, as well as end troop occupation overseas. According to the executive summary of the Restore American plan, "Dr. Paul is the only candidate with a plan to cut spending and truly balance the budget," and Ron Paul 2012 National Campaign Chairman Jesse Benton adds "It's the only plan offered by a presidential candidate that actually balances the budget and begins to pay down the debt." Additionally, Benton bills it as "the only plan being offered that tries to reign in the Federal Reserve and get inflation under control.""Ron Paul's plan is the only one that seriously addresses the economic and budgetary problems our nation face" Benton says in a statement regarding Restore America. "It cuts $1 trillion in one year, and slashes regulations and taxes so our economy can grow and create jobs." One large slash will be to the president's paycheck, which Paul wants to cut from $400,000 annually to only $39,336, which he says is about on pay with the median personal income of the average American worker.Elsewhere, Paul aims to reduce the federal work force by 10 percent, lower the corporate tax rate from 35 percent to 15 percent, and end all taxes on personal savings and extend tax cuts created by the Bush administration. And foreign aid? Paul wants to cut it out completely.Departmentally speaking, the Environmental Protection Agency would see a cut in funding by 30 percent, and the Food and Drug Administration would see its budget slashed by 40 percent. Traditionally, removing government-imposed regulations is a main focal point of libertarianism, a believe largely attacked to both Congressman Paul and his senator son, Rand Paul.Always an opponent of the Federal Reserve, Congressman Paul says that he will also push for a full audit of the Fed. During the last televised GOP debate, Rep. Paul attacked Republican candidate Herman Cain for his reluctance to authorize an audit and brought up the former pizzaman's past affiliation with the central bank — Cain once had a leading position with the Kansas City Fed.
You can share this story on social media: