Ron Paul's nonprofit refuses to disclose list of donors to the IRS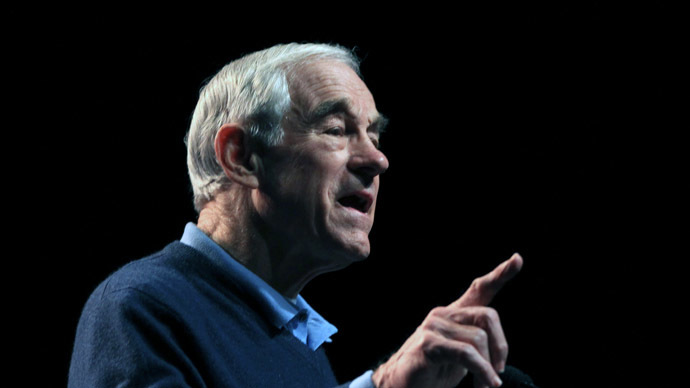 The United States Federal Reserve is usually the government office finding itself most often in the crosshairs of former Texas congressman Ron Paul, but now the longtime lawmaker is setting his sights on another agency: the Internal Revenue Service.
Paul's relentless efforts to abolish the Fed have without a doubt been a hallmark of the 78-year-old libertarian's career in Congress, but recent attempts from the IRS to compel a nonprofit organization run by the former presidential hopeful for details about its contributors has pushed him to pursue yet another fight with the federal government.
Last week, Paul signed his name to an email sent to supporters acknowledging that the IRS has billed his nonprofit, Campaign for Liberty, for failing to hand over the names of donors when the group filed its taxes for the year 2012.
But Megan Stiles, the group's director of communications, now tells the Washington Examiner that the organization will fight the government's demands.
"There is no legitimate reason for the IRS to know who donates to Campaign for Liberty," Stiles told the Washington Examiner on Tuesday. "We believe the First Amendment is on our side as evidenced by cases such as NAACP v. Alabama and International Union UAW v. National Right to Work. Many 501(c)(4) organizations protect the privacy of their donors in the very same way as Campaign for Liberty. For some reason the IRS has now chosen to single out Campaign for Liberty for special attention. We plan to fight this all the way."
Stiles' confirmation of an impending fight between Campaign for Liberty and the IRS comes just days after Paul told his supporters via email that the government's latest actions "is likely just the first in a long line of unconstitutional and likely illegal 'excuses' this rogue government agency will use to try to shut us up and shut us down by fining us to death."
"Forcing organizations like Campaign for Liberty to publicize donor information would have an incredibly chilling effect on political speech," Paul wrote.
"Many liberty-loving Americans would silence themselves for fear of becoming targets of political 'retribution,'" he continued. "And after the Obama IRS was caught red-handed targeting pro-limited government groups for harassment and intimidation, these fears could not be more well-founded."
"The statists' goal is to cripple Campaign for Liberty and perhaps even force us to shut our doors," he added.
On the official Campaign for Liberty site, the group published a bill from the US Department of Treasury sent late last month for $12,900 levied on account of the organization's failure to file its 2012 taxes completely. Specifically, the group's paperwork was absent a Schedule B form — required by the IRS from American tax-exempt nonprofit organizations that receive $5,000 or more in donations each year — that would list the names of contributors and how much they handed to an organization.
IRS Fines Ron Paul's Campaign for Liberty
"Paying this outrageous extortionist fine — just to exercise our rights as American citizens to petition our government — may even be cheaper in the short run," Paul added in his email. "But it'll just embolden an alphabet soup of other federal agencies to come after us."
Robert Wenzel, a reporter for the Economic Policy Journal, wrote this week that the letter "raises many more questions than it answers and is one more indication that it is going to be one hot and sticky summer" for the business end of Paul's politics.
"Given the many things that C4L can fight against, a battle that can jeopardize the organization's very existence, as the letter suggests, seems like an odd battle to fight, especially when it has already disclosed to donors that it is collecting data as a result of federal law," Wenzel wrote. "Or is there something about the contribution list that C4L doesn't want to disclose for other reasons?"
Another possibility, according to Wenzel, is that the agency's new-fangled interest in Paul's organization is connected in some way to reports that surfaced earlier this year into an alleged grand jury probe that's been launched to investigate possible corruption involving Ron Paul 2012 deputy campaign manager Dimitri Kesari.
"The IRS technically requires donor information from 501(c)(4) organizations and is forbidden by law from releasing it to the public, yet despite this they have 'mistakenly' released the information repeatedly over the years," Stiles added to Examiner reporter Joel Gehrke on Tuesday. "Often these leaks have been made to political opponents of the conservative groups whose information was leaked. Leaking the donor information is intended to harass and to intimidate those donors from donating to political causes. Campaign for Liberty has refused to provide donor information to the IRS to protect the privacy of our members. Now the IRS has demanded the information and fined Campaign for Liberty for protecting its members' privacy."
You can share this story on social media: