Ron Paul fights the Fed in new video game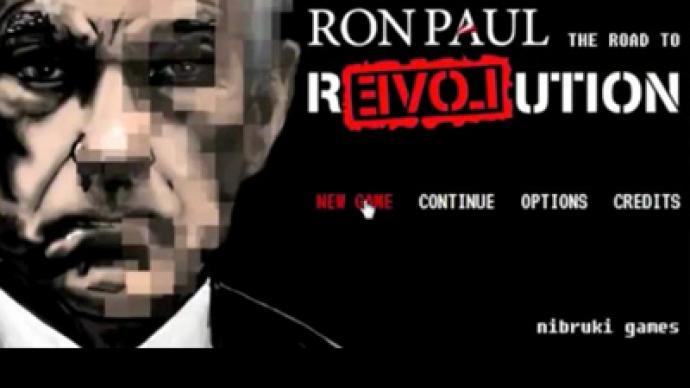 Houston, Texas' Daniel Williams is just as old as Super Mario Bros., but it's only now that the programmer is giving the game a much needed make-over. Forget Nintendo's official sequels, Williams, 27, is about to bring a new meaning to "GOP."
Williams hopes his latest brainchild, "Ron Paul: the Road to REVOLution," will have both dweebs and Democrats alike praising the GOP. In this case, though, that means "grand old play.""Ron Paul: the Road to REVOLution" borrows from iconic video games including Mario, Sonic the Hedgehog and Castlevania, but combines the classic side-scrolling gameplay that made those titles smash hits with America's favorite 76-year-old political candidate. Instead of a perturbed plumper or a speedy blue anamorphic rodent performing as protagonist, Williams relies on Republican Party presidential hopeful and Texas Congressman Ron Paul to grab the attention of gamers."I love video games, and I'm a programmer by trade," Williams tells Raw Story. "Programming video games is kind of a hobby of mine. I'm the lead programmer on a site called RonPaulSwag.com, where we sell t-shirts and promote liberty to younger crowds. A video game was kind of the next step for me."On RonPaulSwag, supporters of the congressman can learn about the ideologies of the Republican Party candidate by opening up their wallets for stickers, magnets and shirts with the libertarian legend's likeness on them. Williams hopes, however, that — as fun as that sounds — fans of the Federal Reserve-fighting politician will be able to take their Paul Passion to a whole new level with "Road to REVOLution." Fifty levels, in fact.Throughout the course of the game, still in development, the player navigates Rep. Paul around America's 50 states, facing off against bad guys at the 13 branches of the Federal Reserve. Along the way, Paul has to pick up pieces of gold, avoid the disembodied head of neo-con former-President George W. Bush and, as if there was any doubt, eventually end up embroiled in an "epic" encounter between Paul and Federal Reserve Chairman Ben Bernanke. Right now Williams is still at work on the game, though, and hopes he will have it done in time before Election Day has come and gone. "I really wish I'd thought of the idea a year ago," he adds to Raw Story. In an attempt to garner monetary support to speed up the development though, Williams has posted a teaser of his work-in-progress on the crowdsourcing site Kickstarter, which has so far spawned 46 backers. With more than two weeks to go until he takes his project off of the site, Williams has already exceeded his goal of $5,000.At this point, predicts Williams, the game will be ready by this July. Once he has hammered out all the kinks and the game is as good as gold, he hopes to release it for free on the Web, and then perhaps put out a copy on the Xbox Live Arcade and maybe a mobile version as well. For our part, we suggest that Williams already start up a sequel. Something about racing to get the troops out of Afghanistan before the dollar completely devalues seems like all too great of a game to pass on.
You can share this story on social media: