Have a spare $50k? Romney is already selling seats for inauguration event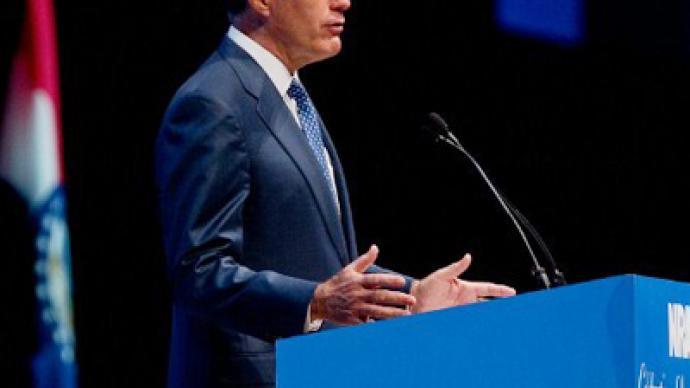 Election Day is still nine months away, but Mitt Romney wants his supporters to know that all of their hard work and thousands of dollars worth of donations won't be forgotten. Romney is prepping for a victory party and you're invited!
All it will take is some serious wishful thinking and around $50,000.One of GOP presidential hopeful Mitt Romney's biggest supporters began circulating an email over the weekend in which he explains to other Republican Party proponents of the candidate that their contributions toward the former Massachusetts governor's campaign will have a serious payoff. And to say that the author of the email is a bit optimistic could be more than just an understatement.In the email penned by Romney pal Richard Stormont, the former Marriott hotel executive explains to supporters that their campaign contributions will get them more than just a Christmas card next year. For Romney's biggest fundraisers, a seat will be secured at an upcoming inaugural retreat with the country's next president.The catch here, however, is kind of a big one. Romney is still a few months away from presumably capturing the GOP's nomination at their convention in Tampa slated for this August. Even then, the could-be candidate will still have to go up against incumbent Barack Obama and, if recent polls are any indication, a win for Romney isn't exactly guaranteed. According to the latest polling from Rasmussen Tracking done over the weekend, a hypothetical match-up between Romney and Obama would go to the challenger, but only by a spread of three points. Polling released on Friday by Fox News also put Romney in the lead, but only by two points. Earlier last week, ABC News released a poll in conjunction with the Washington Post that pegged Obama as the winner by seven points."The campaign is now moving into its next phase with the formation of 'Romney Victory'," explains Stormont in his latest email, which he goes on to explain is the new name that the Republican National Committee and the Romney for President campaign are working under to bring in as many bucks for the candidate as they can before Election Day."The legal maximum that an individual can donate to Romney Victory is $75,800.The campaign is asking people who are able to make a $50,000 contribution to do so today and become a 'Founding Member' of Romney Victory," adds Stormont. "These donors will be invited to a special retreat with Governor Romney in late June in California and will have preferred status at the first Presidential Inaugural retreat as well as yet to be determined access at the Republican National Convention in Tampa in August."Is it presumptuous for Romney to plot an inaugural retreat when he has yet to take the Republican Party's nod, let alone race (and win) an election against Obama? Probably. But that doesn't mean supporters shouldn't empty out their bank accounts.For Romney fans not in the one-percent (they do exist, right?), don't worry — ol' Mitt hasn't forgotten about you either. Stormont adds that the campaign is offering some other, less expensive packages for those that want to support Romney yet don't want to jump into dropping 50-grand to go to a make-believe gala.Stormont says that Governor Romney will be returning to Atlanta, Georgia this June, where he will participate in two fundraising events. "The first event will be a reception which will be 1K per person/2K per couple to attend and 10K per couple to get a photo with Governor Romney. 10K represents a maxed out couple, giving $2500 each to both the primary and general election.""Please let me know that you will be participating in this critical phase of the future of our country," adds Stormont, "I would like to request that you take a moment and reply back to me as soon as possible as to whether you would like to serve on the Host Committee for the June 11th reception and/or if you are interested in participating in the private dinner on June 11th?""The future of our country is at stake," concludes Stormont. And with $10,000 getting Romney pals a dinner and Polaroid with the contender, steak better be on the menu too.
You can share this story on social media: