Romney To Run for President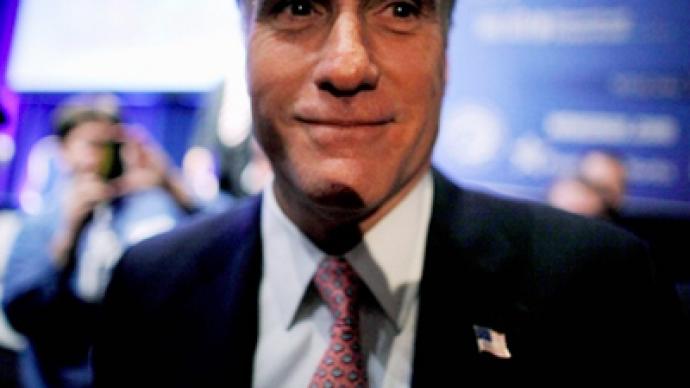 Former Massachusetts Governor and 2008 Republican presidential nominee vier Mitt Romney made his first move toward a 2012 bid on Monday, announcing the formation of an exploratory committee to pursue a run for the White House.
Romney took to the web on Monday with a YouTube video, Twitter announcement and Facebook post proclaiming the start of his venture.In his announcement message, Romney says that, "From my vantage point in business and in government, I have become convinced that America has been put on a dangerous course by Washington politicians, and it has become even worse during the last two years." Romney speaks to the camera in the clip while mugging before a University of New Hampshire baseball field, adding that he is "convinced that with able leadership, America's best days are still ahead."The Bain Capital co-founder and 2002 Salt Lake City Olympic Games Organizing Committee CEO goes on to deface the current administration in the two minute clip, saying that President Obama's inexperience in the business world—unlike that of his own—leaves the incumbent unqualified for reelection. "He and virtually all the people around him have never worked in the real economy. They just don't know how jobs are created in the private sector," says Romney. Though he neglects to emphasize any campaign promises this early in the election, the presidential hopeful explains his concern for the current unemployment rate and notes his personal track record when it comes to creating jobs. "In 1985, I helped found a company. At first, we had ten employees; today there are hundreds," he says in the video.While revitalizing the job force will likely be a goal of all 2012 forerunners, Romney will most likely have a hard time convincing GOP constituency that he will stay true to conservative values.Romney twice presented himself as a pro-choice candidate while running for US Senate and Massachusetts governor in 1994 and 2002, respectively, during the latter writing that, "I respect and will protect a woman's right to choose. … Women should be free to choose based on their own beliefs, not mine and not the government's." Only two years later he gave an interview to National Review Online, saying, "At one point, the experts pointed out that embryonic stem cell research should not be a moral issue because the embryos were destroyed at 14 days. … it just hit us hard just how much the sanctity of life had been cheapened by virtue of the Roe v. Wade mentality." In 2005 alone, Romney vetoed a bill expanding access to the "morning after" pill that would make it available to rape victims, only to sign off on another bill two months later that would increase the number of Massachusetts residents eligible for family planning services, including access to the same form of birth control he restricted earlier that year.Even earlier in 2011, Romney spoke out against President Obama's health care law, calling it a "bad law, bad policy" and "bad for America's families." He also announced that he vowed to repeal it if given the opportunity—harsh words for a bill that many feel was modeled after Romney's own 2006 health care law in Massachusetts. Many Republicans have come out against Obamacare for having to mandate insurance for most Americans, though Romney's 2006 bill contains a more sweeping mandate for people to get insured than Obama's and more severely penalizes those who are not. Five years after he enacted the Massachusetts law, New Hampshire Democrats gathered in Concord, NH on Tuesday to thank Romney for his work, with the left praising him for creating an impetus for Obamacare.
You can share this story on social media: