Romney wins delegate count as hurricane, dissent dog Republican convention (PHOTOS)
Published time: 29 Aug, 2012 00:14
Edited time: 29 Aug, 2012 07:49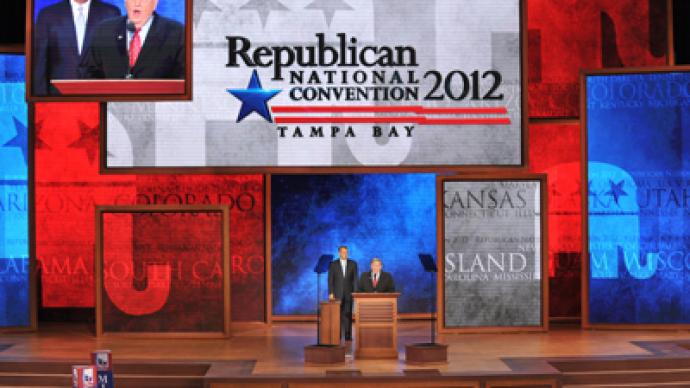 Republican Party delegates have officially nominated Mitt Romney to run for president in November. The decision was no surprise, but the convention's first day was hardly without incident, with protests outside and a hurricane causing delays.
Over 90 per cent of the delegates attending the delegation threw their support behind Romney. Ron Paul, whose supporters protested at the convention over new party rules, came in a distant second with just over eight per cent, or 189 delegates.

Other candidates, who took part in the primaries and caucuses earlier this year but failed to amass a significant amount of supporting delegates, received few votes. Only nine delegates declared their support for former Pennsylvania Senator Rick Santorum, while Minnesota Representative Michele Bachmann, former Utah Governor Jon Huntsman and former Louisiana Governor Buddy Roemer got one delegate each.

Speakers at the convention accused President Barack Obama of doing nothing to tackle high unemployment and a growing national debt, and said that Mitt Romney would work hard to ameliorate the country's economic situation.

"We have a message for America: Elect Mitt Romney and Paul Ryan and they'll get America working again," Republican National Committee chairman Reince Priebus was quoted by Reuters as saying. "We must send America's comeback team to Washington."

A swathe of speakers from across the nation is gave similar laudatory speeches tonight. Among those who appeared onstage are New Jersey Governor Chris Christie, South Carolina Governor Nikki Haley and Ann Romney, the nominee's wife.
Convention marred by hurricane and dissent
The convention was originally slated to kick off on Monday, but was rescheduled due to the threat of Hurricane Isaac, which is now making its way to New Orleans, Louisiana. However, things did not go over smoothly on Tuesday either.
A number of Paul supporters and other dissenting attendees booed House Speaker John Boehner as he read out proposed new party rules that would make it harder for non-mainstream candidates to receive the nomination in the future.
The new regulations will bind delegates to the results of a statewide vote. They also void the votes of dissenting delegates, making it harder for outsider candidates, like Paul, to be able to win votes in the primary process, not to speak of the nomination for the presidency itself.
Boehner put the measure to voice vote and although "no" chants were clearly louder than "yes," the Speaker said the new rules would be adopted "without objection."
Delegates face photographers and cameras as they pose for the official Convention photograph at the Tampa Bay Times Forum in Tampa, Florida, on August 28, 2012 (AFP Photo / Stan Honda)
Delegates hold up signs in support of Republican presidential candidate Mitt Romney during roll call for nomination of President of the United States at the Tampa Bay Times Forum in Tampa, Florida, on August 28, 2012 (AFP Photo / Robyn Beck)
A Ron Paul supporter carries stickers around at the Tampa Bay Times Forum in Tampa, Florida, on August 28, 2012 (AFP Photo / Robyn Beck)
Delegates show their support for Mitt Romney during roll call for nomination of president of the United States at the Tampa Bay Times Forum in Tampa, Florida, on August 28, 2012 (AFP Photo / Robyn Beck)
Delegates show their support for Mitt Romney during roll call for nomination of president of the United States at the Tampa Bay Times Forum in Tampa, Florida, on August 28, 2012 (AFP Photo / Stan Honda)
Scott Romney (C), brother of Republican presidential candidate Mitt Romney cheers during roll call at the Tampa Bay Times Forum in Tampa, Florida, on August 28, 2012 (AFP Photo / Brendan Smialowski)