Rice fails to answer boy's question about tortures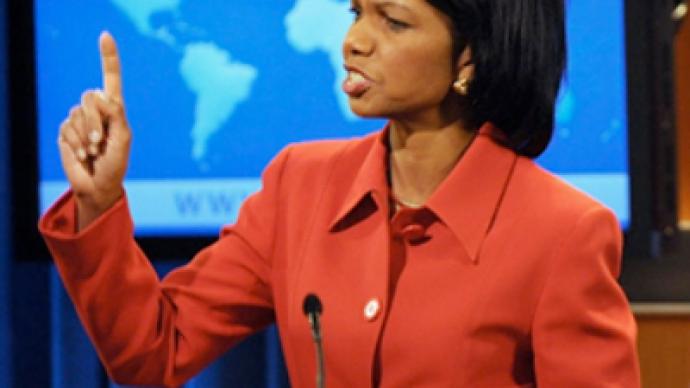 Can an American fourth-grader's question puzzle a former State Secretary? A recent Condoleezza Rice meeting with ten-year-old students in Washington showed she couldn't answer even a well-censored one.
Everything went smoothly during Rice's first appearance in Washington since leaving government on Sunday. The former US Secretary of State was visiting the Jewish Primary Day School of the Nation's Capital before giving an evening lecture at the Sixth & I Historic Synagogue, the Washington Post newspaper reports.
She delivered a poetic lecture about her affection for Israel and the importance of learning languages before opening a short question & answer session.
The questions, developed beforehand by students with their teachers, weren't seen by Rice before. At first, the questions were inoffensive, the paper writes, but then Misha Lerner came up with his one.
Misha was initially planning to ask whether Condoleezza would push for torture if she worked for Obama's administration, Inna Lerner, Misha's mother born in Russia, explained to the Washington Post.
"They (teachers) wanted him to soften it and take out the word 'torture," said Inna.
Misha obeyed the watchdogs:
"What do you think about the things President Obama's administration was saying about the methods the Bush administration had used to get information from detainees?" he asked.
However, Rice took it in stride saying that she was reluctant to criticize Obama, and then got to the heart of the matter.
"Let me just say that president Bush was very clear that he wanted to do everything he could to protect the country. After September 11, we wanted to protect the country," she said. "But he was also very clear that we would do nothing, nothing, that was against the law, or against our obligations internationally. So the president was only willing to authorize policies that were legal in order to protect the country."
She added: "I hope you understand that it was a very difficult time. We were all so terrified of another attack on the country. September 11 was the worst day of my life in government, watching 3,000 Americans die. Even under those most difficult circumstances, the president was not prepared to do something illegal, and I hope people understand that we were trying to protect the country."
It seems the boy was waiting for a bit different answer.
You can share this story on social media: