Syria researcher dismissed for falsifying credentials hired by Senator McCain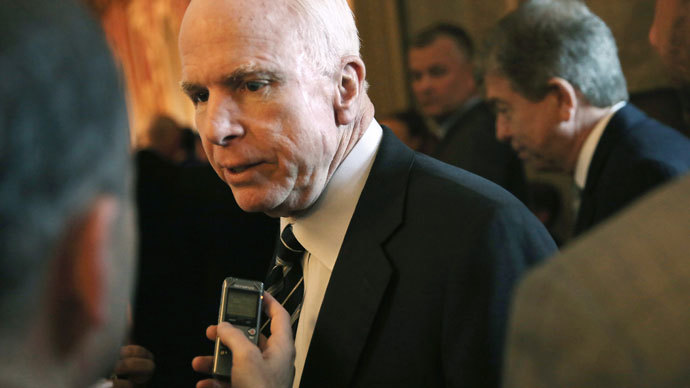 The Washington scholar who was cited by US leaders calling for a military strike on Syria, only to lose her job for fabricating her academic credentials, has been hired by the office of US Senator John McCain, Foreign Policy magazine reports.
Elizabeth O'Bagy was formerly employed by the Institute for the Study of War, where she quickly became a respected voice on the ongoing conflict between Syrian President Bashar Assad and opposition forces. McCain and US Secretary of State John Kerry once read from an editorial O'Bagy wrote in the Wall Street Journal when advocating for a military strike in front of Congress.
O'Bagy was fired from the Washington, DC based think-tank shortly thereafter, when it was revealed that she did not have a combined masters/PhD from Georgetown University as she had claimed.
"Elizabeth is a talented researcher, and I have been very impressed by her knowledge and analysis in multiple briefings over the last year," McCain told Foreign Policy in a statement. "I look forward to her joining my office."
The  article McCain and Kerry referenced argued the US should send arms to Syrian rebels, claiming that "contrary to many media accounts, the war in Syria is not being waged entirely, or even predominantly, by dangerous Islamists and Al-Qaeda die-hards."
Kerry said it was a "very interesting article" and that he was impressed by O'Bagy's "enormous" experience.
O'Bagy, 26, also spent time as the political director of the Syrian Emergency Task Force, which she failed to disclose to the Wall Street Journal before her opinion piece was published. The Syrian Emergency Task Force is an advocacy group that lobbies on behalf of Syrian rebels in Washington. The newspaper was later criticized for what some journalists said was a delayed reaction in disclosing that affiliation alongside O'Bagy's column.
O'Bagy has said she was not employed by the group, only working as a contractor, and was not affiliated with any lobbying efforts.  She later acknowledged facilitating a meeting between the group and with commanders from the Free Syrian Army.
While she was fired from the Institute for the Study of War for stretching her credentials, Kimberly Kagan, the group's founder, refused to discount any of O'Bagy's work.
"Everything I've looked at is rock solid," Kagan told Politico at the time. "Every thread that we have pulled upon has been verified by multiple sources."
You can share this story on social media: