Syria researcher cited by McCain, Kerry fired for fabricating credentials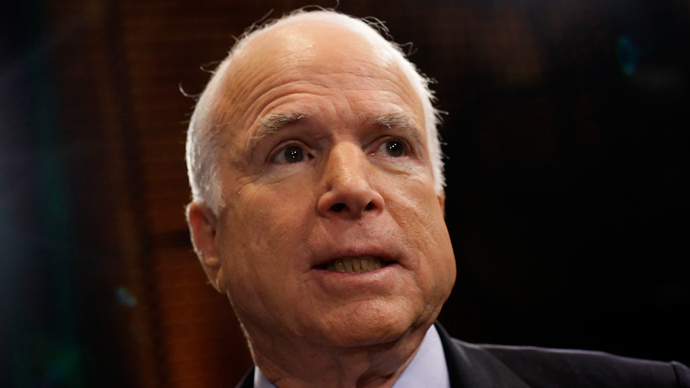 The Syria researcher and commentator who was cited by US leaders who have called for military action against the Middle Eastern country has been fired from her Washington-based think tank for lying about her qualifications.
"The Institute for the Study of War has learned and confirmed that, contrary to her representations, Ms. Elizabeth O'Bagy does not in fact have a Ph.D. degree from Georgetown University," the research group announced in an online statement Wednesday. "ISW has accordingly terminated Ms. O'Bagy's employment, effective immediately." 
Both US Secretary of State John Kerry and Senator John McCain referenced an editorial she had written in the Wall Street Journal during congressional hearings during which they argued in favor of US military strikes against Syria. The 26-year-old wrote that "contrary to many media accounts, the war in Syria is not being waged entirely, or even predominantly, by dangerous Islamists and Al-Qaeda die-hards." 
She told McClatchy that she was merely waiting for Georgetown to confer her degree after submitting and defending her dissertation, also claiming she was in a dual master's and doctorate program at the private Washington university. 
O'Bagy said the dissertation was titled "With Both Rifle and Child: The Role of Female Militancy in Islamic Societies." She wrote that she was "talking to some publishers about possibly turning it into a book." 
Kimberly Kagan, who founded the Institute for the Study of War in 2007, said she was "deeply saddened" by the revelation but does not discount any of O'Bagy's work. 
"Everything I've looked at is rock solid," she told Politico. "Every thread that we have pulled upon has been verified through multiple sources."  
O'Bagy also served as the political director of the Syria Emergency Task Force (SETF), a Syrian rebel advocacy group that has lobbied the White House and Congress to lend support to opposition groups. The Wall Street Journal was criticized earlier this week for failing to disclose O'Bagy's ties to the group. O'Bagy told The Daily Caller Wednesday that she was not employed by the SETF, but an independent contractor who was not involved in their lobbying efforts. 
She also resisted the Obama administration's decision to deem al-Nusra a terror organization in December. 
"I'm not saying they aren't a terrorist group," she told McClatchy last year. "But given the circumstances and given their disastrous cooperation with the opposition as a whole, designating them now would be disastrous." 
The powerful Syrian rebel group formally allied itself with Al-Qaeda less than five months later and O'Bagy later admitted her initial comments were wrong. 
Kerry said the op-ed was a "very interesting article" and remarked on O'Bagy's "enormous" experience, including learning Arabic. But Janine Di Giovanni, a veteran foreign correspondent who has covered the conflict on the ground, told the Huffington Post that O'Bagy "exaggerated wildly her experience inside Syria.
"Those of us who work in Syria, as reporters or researchers, are a very small group of people," she said. "It's not a war to cut your teeth in. A lot of people were quite shocked when a 26-year-old Ph.D, so-called Syria expert who appeared to have never worked in the region, and whom no one had heard of, appeared on CNN and other networks as a Syrian expert."
You can share this story on social media: