Reddit hosting firearm sales, even licensing logo for assault rifles - report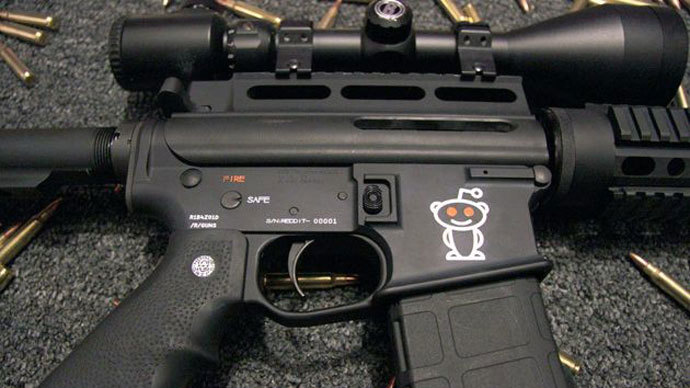 Users of the online forum Reddit took advantage of a community page to purchase at least 150 firearms, including semi-automatic rifles, since June, highlighting the potential to exploit a common loophole in federal gun law online.
The subreddit page GunsForSale has been an active spot for gun buyers and sellers since 2011, offering over 1,000 listings from more than 400 Reddit users in the last six months, according to an investigation by Mother Jones.
Moderators at the GunsForSale subreddit have posted instructions calling on users to follow federal and state gun laws. Mother Jones reports that many sellers on Reddit say they transfer guns through federally licensed firearms dealers (FFLs), which are required to run background checks for any buyer. Yet other user comments indicate other dealers are using the online forum to work around federal limitations, including licensed dealers selling firearms without running background checks.
Since June, at least 159 transactions have taken place on GunsForSale, according to over 100 Redditors who used the subreddit's automated tool for verifying sales and assessing sellers, Mother Jones detailed. Yet the total number of transactions is likely higher based on deals completed through the site's private message service or away from the internet.
Transactions are completed face-to-face often in states with loose gun laws, given a loophole in federal restrictions exempts "private transactions" from background checks.
GunsForSale subreddit's guidelines page instructs users: "Sellers can prefer not to ship a firearm out of state, but do an in-state face-to-face transaction."
In a January 2013 comment thread, one Redditor asked a frequent dealer, FirearmConcierge, if he had ever been charged with violating firearms trafficking laws. FirearmConcierge said he had not.
"There are plenty of dealers out there who make sales without doing background checks. I know dealers that operate exclusively without doing any background checks." FirearmConcierge also stated: "I too have been known not to do a background check on some transactions."
An FFL like FirearmConcierage are legally allowed to sell guns from a personal collection without conducting a background check, like any other private citizen. Yet licensed dealers cannot sell guns from any business inventory without running a background check, David Chipman, a former special agent in the Bureau of Alcohol, Tobacco, Firearms, and Explosives, told Mother Jones.
Reddit's user agreement states that "Reddit is not intended to be a marketplace for any goods or services."
"Reddit neither condones nor does not condone the buying and selling of firearms through the site, as long as users are not using the site to violate applicable US laws," Reddit's communications director Victoria Taylor told Mother Jones.
Taylor said the company does not track commercial sales between users, though, meaning Reddit does not know whether all applicable laws were followed for each sale.
Mother Jones also outlined a case in which an organizer of a bulk gun purchase - that included around 100 AR-15s - brokered on GunsForSale eventually received Reddit's approval to engrave the site's alien logo on the bought firearms. The permission was given while Reddit was owned by media giant Conde Nast.
"The AR-15 is a very common firearm (it is arguably the most popular gun in America) so while unusual, it's not surprising that the gun community on Reddit would want to create a custom accessory," Taylor told Mother Jones.
Mother Jones noted the logo license was used for three different bulk orders of AR-15 lower receivers between May 2011 and July 2012. At least 93 of them were manufactured by Double Diamond Law Enforcement Supply in Arizona.
You can share this story on social media: