Congress set to extend plastic firearm ban, but gun control advocates aren't happy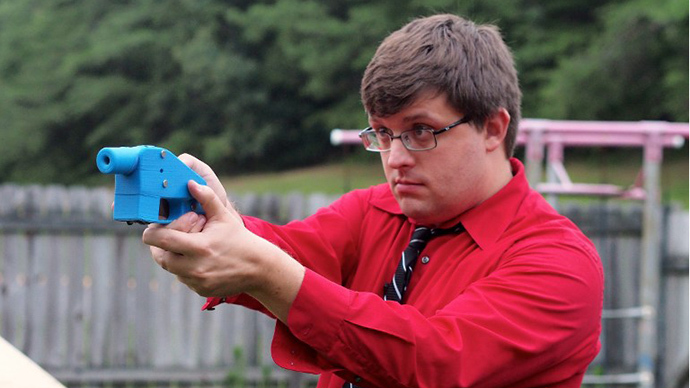 The United States Congress is expected to renew a ban against plastic firearms on Monday only hours before it would expire, but gun control advocates say lawmakers are doing too little to tackle the greater issue this time around.
Monday's vote is expected to end with the Undetectable Firearms Act of 1988 being extended for another decade, but efforts to augment that law to accommodate for new technology will be ignored, leaving the task of regulating weapons made with 3D printers to be brought up for debate at a later time.
Under its current language, the law prohibits the manufacturing, importing, selling, shipping, delivery or transfer of any firearm that eludes metal detectors, x-ray machines and other types of screening devices. The problem with this, gun control advocates insist, is that the metal components built into plastic weapons to make them detectable can often easily be removed.
Senator Chuck Schumer (D-New York) has been attempting to alter current law to add a provision that would mandate otherwise all-plastic guns to be manufactured with a permanent metal part, but firearm enthusiasts and lobbyists at the likes of the National Rifle Association have largely rejected the notion.
The Senate is now expected to shoot down Schumer's proposal during a vote in Washington on Monday, but approve the extension on the 1988 ban.
Voting down Schumer's proposal will be the second major blow to gun control initiatives in 2013 and comes eight months after the Senate rejected a plan for expanded background checks for interested gun buyers. It also falls just short of the one-year-anniversary of a mass shooting in Newtown, Connecticut's Sandy Hook Elementary school, which ended in more than two dozen fatalities.
"The gun lobby still has enormous power in Washington — more, frankly, than I thought they still had," Sen. Chris Murphy, (D-Connecticut), who represented Newtown last year while in the House of Representatives, told the Associated Press. The House voted to extend the 1988 ban last Tuesday without including any new rules for new weapons, despite 3D-printed firearms becoming increasingly prevalent in recent months.
"Back then, in 1988, the notion of a 3D plastic gun was science fiction," Rep Steve Israel (D-New York) told USA Today in November. "Now, a month away, it is reality."
Just this year, a handful of developers released the digital blueprints necessary to make functioning firearms using increasingly affordable 3D printer technology. At issue here, Schumer has said, is that these homemade weapons may call for metal parts, but they aren't actually required to make the gun shoot.
"The expiration of this law, combined with advances in 3D printing make what was once a hypothetical threat into a terrifying reality," he said recently. "We are actively exploring all options to pass legislation that will eliminate the threat of completely undetectable weapons."
"What we believe is the best proposal is to say there has to be a piece of metal that's part of the gun that's not removable, a significant part of the gun, the trigger, the barrel, the handle, stuff like that," he added on Friday to reporters at Gannett newspapers.
Schumer's attempt was met with strong opposition by the likes of the NRA, however, who vowed to fight any expanded requirements to the Undetectable Firearms Act, "including applying the UFA to magazines, gun parts or the development of new technologies . . . that would infringe on our Second Amendment rights."
In a statement of their own after last week's House's vote, Dan Gross, the president of the Brady Campaign to Prevent Gun Violence, saluted Congress in a statement while warning that more could be done by lawmakers.
"Unfortunately, the House failed to address the fact that in the quarter century since this law was first enacted, new technologies have emerged that enable people to make and use undetectable guns that are not barred by the law," Gross said. "Terrorists and other dangerous people can now make undetectable guns with 3-D printers in complete anonymity in their homes, enabling them to breach security and bring guns into airplanes and other secure places. We hope the Senate renews and modernizes the law to keep Americans safe."
Speaking to Gannett, Schumer acknowledged that he would continue his fight even if his proposal was shot-down as expected this week.
"[W]e will then move the 10-year extension, which is better than nothing, and then work when we come back in January to plug this loophole," he told the paper.
You can share this story on social media: