Americans face new recession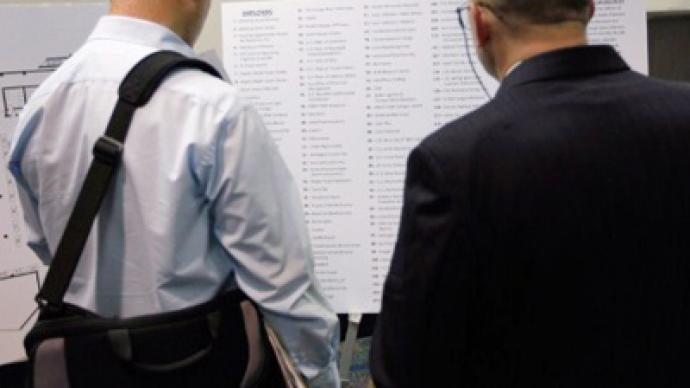 Hold onto your money, folks. It's going to be a bumpy ride. Economists predict that the odds of entering another recession are pretty good — or pretty terrible, depending on how you look at it.
The latest survey from the Wall Street Journal suggests that the odds of entering another economic recession are at one-in-three, the most likely they've been since the United States rebounded from the last one and went into recovery.That recovery, however, has been a staggering one, marred with an unemployment epidemic and a schizophrenic market. Now, says The Journal, odds of going into a double-dip recession are 4 percentage points higher than they were last month,John Ryding, chief economist at RDQ Economics, tells the Fiscal Times that if the unemployment problem in America continues, another recession seems inevitable. "The trend in jobless claims is an important input into our recession probability model, and if this trend were to continue for a number of weeks it would raise a warning flag on the state of the economy," Ryding says. Figures released this week from the Labor Department show that applicants filing for unemployment benefits in America surged last week up to 417,000 claims; earlier predictions on Wall Street had signaled a number substantially less. A total of 7.144 million Americans are currently receiving governmental benefits.A separate report from the Department of Labor shows that the purchasing power of Americans dropped in August as consumers saw an increase in the price of gas, clothing and food. Consumer expectations dipped to 47.0, the lowest level since May of 1980, reports Reuters. Richard Curtin, a contributor to the survey examining the economy in the Thompson Reuters/University of Michigan report released today says that "consumer spending will not be strong enough to enable the rapid job growth that is needed to offset reduced long-term expectations.""Rapid" only begins to explain what is necessary. The Obama administration announced weeks earlier that the country will need to see the creation of 200,000 jobs per month in order to get the unemployment rate out of its current slump. The White House says it is possible to get it to around 8.1 percent in 2012 with that much job creation, though the month of August saw a job growth rate of zero.Even off of Wall Street, Americans are preparing for another economic episode. A Gallup poll taken in August showed that American confidence in the economy is at the lowest level since March of 2009, close to the low point of the last recession. President Obama has urged Congress that his American Jobs Act will take on the unemployment problem, but a poll released from Bloomberg this week shows that two-thirds of the country thinks his plan will fail.
You can share this story on social media: