US economy on verge of 'Great Great Depression'?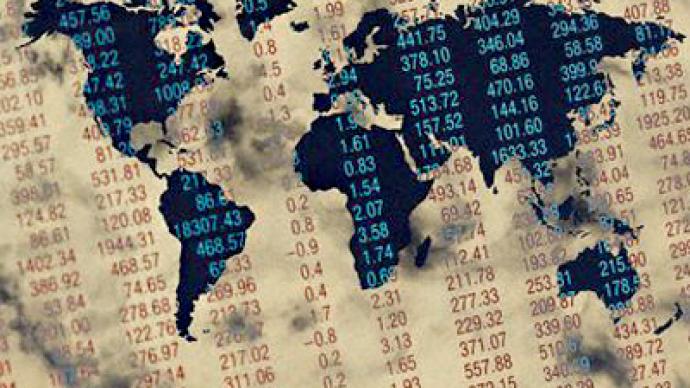 World markets fall after the US economy suffered its worst day of the year on June 1 with all signs pointing to more declines over the summer.
"We're on the verge of a great, great depression," opined a market strategist Peter Yastrow.The US market was hit by falls in job growth and manufacturing which in turn abolished quarter of the Dow Jones industrial average's gains for the year thus far. As the markets opened back up on June 2 investors were reluctant to take risks as more bad news regarding the US economy is expected to be released June 3. The Dow dropped 30 points within the first 15 minutes of open trading as market watchers anxiously await the release of US government job numbers. Thus far reports indicate claims for unemployment benefits did not shrink as much as expected, causing many people to fear a labor market recover simply is not taking place. "We've been through a couple-week period here where basically every piece of economic data has just been awful," John Canally of LPL Financial in Boston told the Daily Mail. Yastrow said he has witnessed "near panic" by investors unwilling to take risks in the volatile markets."Interest rates are amazingly low," he told CNBC. "We're on the verge of a great, great depression. The [Federal Reserve] knows it.""Almost every bit of data about the health of the US economy has disappointed expectations recently," noted Mike Riddell of M&G Investments.Home prices are down, foreclosures are up. Commodity prices are rising and many Americans remain unemployed, some have even exasperated their allotted unemployment benefits, leaving them with nearly no options. A recent report by Capital Economics found drops in first quarter home prices indicated the prices had fallen by more than they did during the Great Depression.US Treasury Bonds have now fallen to their lowest levels since December 2010. Overall doubts about Americans economic recovery have begun to surface from more analysts as new reports compound one another with dire news. "It looks like this recovery has hit its second 'soft patch', which for a recovery that is less than two years old is troubling," pointed out Paul Ashworth of Capital Economics.Meanwhile, Moody's Investors Service said if America's two political parties fail to make progress on economic growth and a solution to the debt ceiling debate, it would place the US credit rating under review for a possible downgrade. "If there is no progress on increasing the statutory debt limit in coming weeks, it expects to place the US government's rating under review for possible downgrade," Moody's said. This threat follows similar threats by Standards and Poor. Erica Payne, the founder of The Agenda Project explained the threat may not change the debate however. Republicans are dedicated to their Tea Party agenda of not raising the debt ceiling."It's hard to negotiate with a crazy person," she said. "They fundamentally don't understand this."The Tea Party has taken over the Republican agenda, they are calling on the Republicans to do the irresponsible and illogical thing, and that is to default on debt. Defaulting is not good for anyone – America or the rest of the world. "Since the risk of continuing stalemate has grown, if progress in negotiations is not evident by the middle of July, such a rating action is likely," Moody's added.The responsible thing to do is raise the ceiling, Payne argued, failing to do so will damage the economic recovery. She said she hoped the Moody's warning pushed for Congress to act more quickly and reach a compromise to raise the ceiling and tackle US debt concerns. Whether they will or not remains unclear. The US government hit its $14.3 trillion borrowing limit on May 16 and now has until August 1 to solve the problem or risk defaulting on its debts.
You can share this story on social media: