Real-life Rambo fighting Feds
Published time: 14 Jun, 2011 16:11
Edited time: 14 Jun, 2011 20:56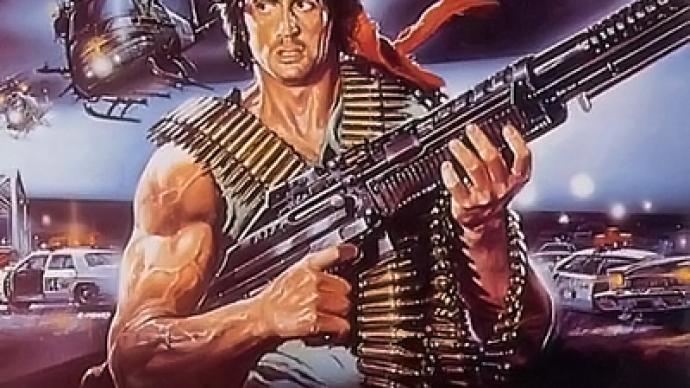 Following a 30-mile car chase over the weekend that ended with a former-Military member firing shots at deputies, police are still scouring the woods of Montana for a real-life Rambo that authorities consider "armed and extremely dangerous."
The Missoula County Sheriff's Office, the Missoula SWAT team and the FBI are combing through the mountains of western Montana on the lookout for David Burgert after a Sunday shootout that erupted after police tried to pull him over for driving erratically. An ex-Marine member and former leader of a militia, authorities believe that Burgert was equipped for engagement with law enforcement and is ready to go at it with officials at any time.
"He was prepared for a confrontation," Missoula County Undersheriff Mike Dominick told the Associated Press. "He drove purposely onto the logging road and he engaged the deputies with one to three shots."
Burgert's escapades over the weekend ring remarkably parallel to the plot of the 1982 Sylvester Stallone flick Rambo, in which a Vietnam vet eludes authorities and leads them into the mountains only to combat the National Guard with guerilla tactics obtained through Military training.
After leading cops on a slow-speed chase, Burgert abandoned his Jeep Cherokee on a remote side road and opened fire before fleeing into the woods. Dominick says that Burgert took off on foot with a pack of gear, leaving behind stores of ammo and a few rifles. Authorities are unsure what firearms he has on him now, but officials believe Burgert is ready for a shoot-out.
Back in 2002, Burgert was arrested following a standoff which ended with authorities nabbing him from a wooded hideout where he was equipped with a mounted machine gun. A search of his home after that arrest revealed thousands of rounds of ammunition and homemade and commercial explosives.
On Monday night, the tally of federal and state agents participating in the manhunt exceeded five dozen, with helicopters and dogs on the search for Burgert.
Authorities say that Burgert was released from federal prison in 2010, where he was serving time on weapons charges stemming from an all-night armed standoff he was involved with years earlier. At one time Burgert was the leader of the Project 7 Militia, who the FBI considers a domestic terrorist group. Reportedly Project 7 was hatching plans to assassinate local officials and eventually go to war with the National Guard.
Dominick says that Burgert is familiar with the Montana terrain he is taking hideout in, given his status as an active outdoorsmen and a former Marine. A description given for the 47 year old says that he is 6-feet-2, 230 pounds, with brown eyes and brown hair. Authorities last saw him wearing a blue shirt and a fanny pack and believe that he's armed. They also suspect that he is retrieving another automobile from the woods—with more weaponry.
Burgert was stopped by the Montana Highway Patrol last week for a minor traffic offense, to which he told officers "it would take a SWAT team" to bring him in.