Rand Paul vs the Senate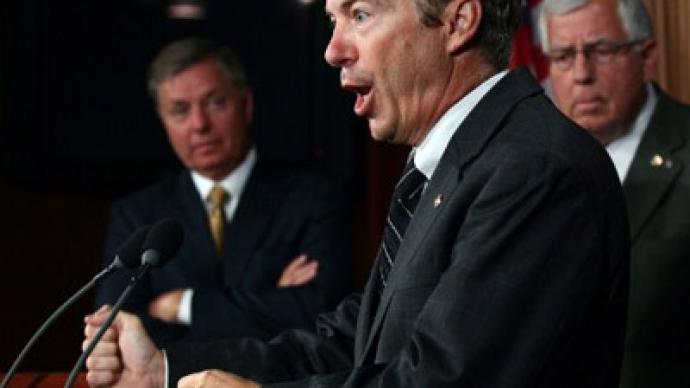 Republican Senator Rand Paul is so opposed to federal regulation that he is now the only lawmaker keeping legislation from passing on grounds that he is philosophically opposed.
Some of the largest trade associations in the pipeline industry, including the Interstate Natural Gas Association of America, the American Gas Association and the Association of Oil Pipelines, are all in favor of a new bill that would strengthen safety rules on both oil and gas pipelines in America. It's managed to garner the support from the Pipeline Safety Trust advocacy group and every lawmaker on the Senate floor. All but one, that is.The main sponsors of the bill, Sens. Jay Rockefeller, D-W.Va and Frank Lautenberg, D-N.J., need unanimous consent before the bill will pass. While two Republican lawmakers originally opposed, Sen. Tom Coburn of Oklahoma eventually changed his mind. Now the only dissenter is Paul.Senator Paul, much like his fellow libertarian and father Rep. Ron Paul, has long opposed federal regulation. Earlier this year he voiced that coal mines should manage their own safety regulations and spoke out against proposed laws that would let the government control mining standards. "Every regulation doesn't save lives," Paul remarked to a hearing of the Senate Health, Education, Labor and Pension Committee earlier this year. "There is a point or a balancing act between when a regulation becomes burdensome enough that our energy production is stifled. We have to assess the costs of regulation and whether they save lives," added Paul.Responding afterwards at a coal facility, Paul added, "You live here, and you have to work in the mines. You'd try to make good rules to protect your people here. If you don't, I'm thinking that no one will apply for those jobs."Kyle Rogers, a vice president at the American Gas Association, is in favor of the strengthening of safety rules, but understands where Paul is coming from."The rationale behind the hold is that he came to Congress as a person that doesn't want to provide more regulatory authority to the regulators. He wants to look at those (regulations) and pull back where he can," Rogers tells The Associated Press. Under the proposed legislation, the government could insist that automatic shutoff valves be put in place on new pipelines in order to prevent disasters caused by leaks. The AP writes that it would also regulators to decide when facilities would require mandatory inspections and would be paid for my industry fees. Only last year was Rand Paul elected to the Senate to represent his home state of Kentucky as a Republican lawmaker. His father Ron serves as a congressman in Texas and is currently a GOP hopeful in the 2012 presidential election.
You can share this story on social media: