Washington Times ends Rand Paul's column over plagiarism accusations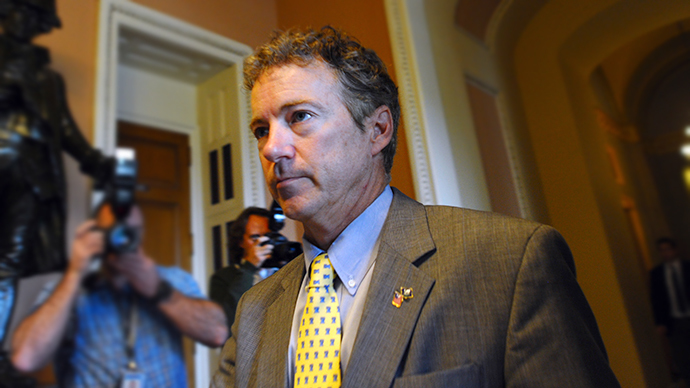 The Washington Times newspaper announced that it is ending a regular column by Kentucky Senator Rand Paul following a series of plagiarism charges against his work.
The Republican senator has been accused of not only failing to properly cite references for his written and spoken work, but also of essentially lifting passages verbatim from other sources.
According to the Times, putting an end to Paul's column was a mutual decision.
"We expect our columnists to submit original work and to properly attribute material, and we appreciate that the senator and his staff have taken responsibility for an oversight in one column," said Times Editor John Solomon in the piece announcing the decision.
Last week, MSNBC's Rachel Maddow reported that Paul plagiarized material from the Wikipedia entry for the science fiction film "Gattaca" and used it in a speech boosting former Virginia gubernatorial candidate Ken Cuccinelli.
Soon afterwards, BuzzFeed found that Paul also lifted text from the Wikipedia entry on the film "Stand and Deliver" for a speech on immigration. The website also revealed that three pages of Paul's book, "Government Bullies: How Everyday Americans are Being Harassed, Abused, and Imprisoned by the Feds," were taken directly from a study by the Heritage Foundation think tank.
Finally, BuzzFeed reported that portions of a Paul op-ed in the Times were taken from an article originally published by another author in "The Week."
After initially disputing the charges, Paul took responsibility on CNN on Tuesday.
"Ultimately, I'm the boss, and things go out under my name, so it is my fault," he said. "I never had intentionally presented anyone's ideas as my own."
The senator's spokesman, Doug Stafford, also released a statement pledging that Paul and his office will be more careful in the future.
"In the thousands of speeches and op-eds Sen. Paul has produced, he has always presented his own ideas, opinions and conclusions," Stafford said, according to Louisville's Courier-Journal. "Sen. Paul also relies on a large number of staff and advisers to provide supporting facts and anecdotes — some of which were not clearly sourced or vetted properly."
Stafford added that one of the problems was simply that the office failed to provide the necessary footnotes to Paul's work, and that this will be remedied in the future.
"Going forward, footnotes will be available on request," he said. "There have also been occasions where quotations or typesetting indentations have been left out through errors in our approval process. From here forward, quoting, footnoting and citing will be more complete."
As recently as Sunday, Paul admitted that mistakes had been made, but downplayed the revelations as "errors." He also disputed the notion that the plagiarism charges were as serious as they were being made out to be.
"I think the spoken word shouldn't be held to the same sort of standard that you have if you're giving a scientific paper. I've written scientific papers. I know how to footnote things," he said on ABC's "This Week."
"I take it as an insult, and I will not lie down and say people can call me dishonest, misleading or misrepresenting. I have never intentionally done so."
You can share this story on social media: