Sen. Rand Paul calls for reduction in foreign aid to Israel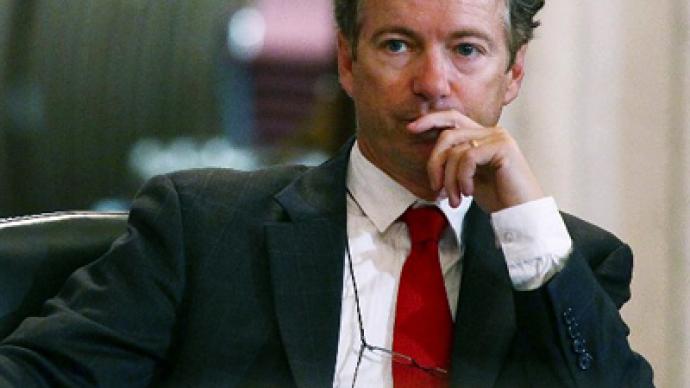 During his first trip to Israel, US Senator Rand Paul (R-Kentucky) called for a reduction in foreign aid for Jerusalem, admitting that he was expressing a minority opinion but making a statement with high shock value nevertheless.
Receiving $3 billion for its military each year, Israel is one of America's top foreign aid recipients and the largest cumulative recipient since World War II. The country receives about one-fifth of the US foreign aid budget. To date, the US has given Israel $115 billion in bilateral assistance, most of which went to the country's military.While Sen. Paul believes Congress is unlikely to cut foreign aid from Israel, he told the Jerusalem Institute for Market Studies that the US is only hurting itself by doing so. By "borrowing from one country to give to another," the Kentucky senator expects the US will only face dire economic consequences down the line and burden itself with greater debt."It will be harder to be a friend of Israel if we are out of money. It will be harder to defend Israel if we destroy our country in the process," Paul told the think-tank. "I think there will be significant repercussions of running massive deficits . . . you destroy your currency by spending money you don't have."Even though Paul called for cutting aid to Israel, one of America's strongest allies, he did acknowledge that Washington should first cut aid to countries with tense relationships to the US, such as Pakistan and Egypt. The senator added that providing so much foreign aid was helping create an arms race in the Middle East that could ultimately harm Israel instead of helping it."I'm concerned that some of the weaponry that we are currently giving to Egypt may one day be used against Israel," he said.Paul also emphasized that by cutting foreign aid, the US would force Israel to become more sovereign and less reliant on the US in its own decision-making. Regarding US arms, Paul thinks Washington should still help Israel procure them without providing subsidies, so that it is "a sale, not a grant."Throughout the talk, Paul frequently cited Israeli Prime Minister Benjamin Netanyahu's 1996 speech in which he announced his plans to wean Tel Aviv off US aid. Rather than criticizing the Jewish state, the senator approached his opposition to foreign assistance by emphasizing the country's need for independence.The Kentucky senator's first trip to Israel has caused further speculation that Paul may plan to run for president in 2016. His comments calling for a reduction of foreign aid in Israel were surprising, since few US officials have made such bold announcements. Even though the US and Israel have a strong alliance, the US has surpassed $6 trillion in debt and reducing foreign aid across all countries in the Middle East could help alleviate the amount of borrowing it does each year. According to foreign policy experts and professors John J. Mearsheimer and Stephen M. Walk, "this largesse is especially striking when one realizes that Israel is now a wealthy industrial state with a per capita income roughly equal to South Korea or Spain."Although Paul is not alone in his opinion, his comments could be provocative to those who disagree with his stance on foreign aid, especially when it comes to one of America's most dedicated alliances."It's unlikely anything changes, but I think it is worth discussing," the senator said during his trip.Meanwhile, the senator's son, 19-year-old William Hilton Paul, was arrested for underage drinking following a flight on Saturday, shedding a greater spotlight on the Paul family. The young Paul was charged with three misdemeanor offenses, including disorderly conduct at an airport, being intoxicated and disruptive and consuming beer and wine underage.When the Kentucky senator returns from his trip to Israel, he is likely to face questions not only about his statements regarding foreign aid, but also regarding the behavior of his 19-year-old, the grandson of former presidential hopeful and congressman Ron Paul.
You can share this story on social media: