Obama promises to block Netanyahu's 'noise'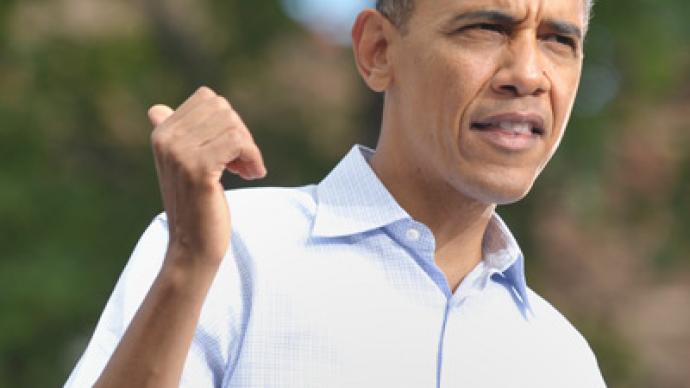 US President Barack Obama said during a televised interview that aired this weekend that he will block out "any noise" from Israel Prime Minister Benjamin Netanyahu urging America to intervene in an Iranian nuclear program.
Speaking to 60 Minutes, President Obama acknowledged that the United States does indeed maintain friendly relations with Israel, but suggested that he would not necessarily intervene in that country's issues if it wasn't the best course of action for the American people. The interview was conducted by Steve Kroft and carried by CBS Sunday evening.Responding to a question about how much pressure the United States receives from Prime Minister Netanyahu to use military force in Iran to thwart a rumored nuclear warhead procurement plan, President Obama said he understands Israel's concerns but does not feel pressured to play by their rules."I have conversations with Prime Minister Netanyahu all the time. And I understand and share Prime Minister Netanyahu's insistence that Iran should not obtain a nuclear weapon, because it would threaten us, it would threaten Israel, and it would threaten the world and kick off a nuclear arms race," President Obama explained.In response to his answer, Mr. Kraft followed through and asked the president, "You're saying, you don't feel any pressure from Prime Minister Netanyahu in the middle of a campaign to try and get you to change your policy and draw a line in the sand? "You don't feel any pressure?""When it comes to our national security decisions — any pressure that I feel is simply to do what's right for the American people. And I am going to block out—any noise that's out there," President Obama said. "Now I feel an obligation, not pressure but obligation, to make sure that we're in close consultation with the Israelis — on these issues. Because it affects them deeply. They're one of our closest allies in the region. And we've got an Iranian regime that has said horrible things that directly threaten Israel's existence."Despite the long-lasting relationship between the US and Israel, the two allies have failed to see eye-to-eye as of late on the Iranian issue, at least as far as to what degree intervention is warranted. The United States has already imposed serious trade sanctions on Iran and is far from on pleasant terms with them otherwise, but Prime Minister Netanyahu and other Israeli officials have asked for President Obama to take more serious action, perhaps even putting boots on the ground."The world tells Israel 'wait, there's still time'. And I say, 'Wait for what? Wait until when?'" Netanyahu said earlier this month. "Those in the international community who refuse to put red lines before Iran don't have a moral right to place a red light before Israel." Days after that remark was made, Israel asked the White House if a meeting could be arranged between the two nation's leaders during Mr. Netanyahu's visit to the United Nations in New York City this week, but the Obama administration said such a sit-down wouldn't be possible.Mitt Romney, the former Massachusetts governor that will challenge President Obama in the November elections, told 60 Minute's that the White House's response was a "mistake that sends a message throughout the Middle East that somehow we distance ourselves from our friends."
You can share this story on social media: