Rand Paul lashes out at Obama over NDAA at conservative conference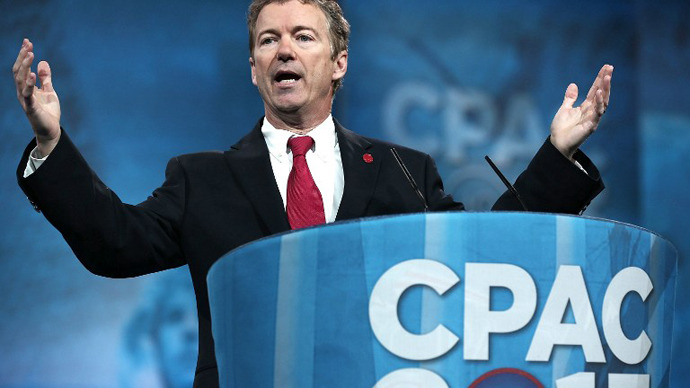 Fresh off the heels of last week's sure-to-be-historic filibuster, Sen. Rand Paul (R-Kentucky) gave a rousing speech at Thursday's Conservative Political Action Conference that once again ripped into US President Barack Obama.
Speaking on day one of the annual CPAC conference near Washington, DC, the libertarian-leaning senator briefly rehashed his arguments from last week's 13-hour filibuster on the Senate floor by once again voicing his concern with Pres. Obama's interpretation with the US Constitution.
"No one person gets to decide the law," and, "no one person gets to decide your guilt or innocence," said Sen. Paul. "My question to the president was about more than just killing Americans on American soil. My question was about whether presidential power has limits."
In the wake of leaked Obama administration memos that justify the extrajudicial killing of Americans suspected of terrorism, Sen. Paul has demanded that the White House answer questions about the president's authority when it comes to condemning his own citizens to death-by-drone without ever asking for a trial. Following last week's marathon filibuster, the Department of Justice and White House alike both admitted that the president does not in fact have the authority to execute US citizens without guaranteeing them due process. Even after saying he was satisfied with that answer, though, Sen. Paul told the CPAC crowd this week that he has questions about the president's own interpretation of his role as commander-in-chief.
Of particular concern, said the senator, was Pres. Obama's December 31, 2011 signing of the National Defense Authorization Act, an annual Pentagon spending bill that last year included a provision allowing for the indefinite detention of US citizens without charge or trial. Under the NDAA, US citizens can be locked up for life if the government has only a minor suspicion even that they have ties with suspected terrorists. The Obama administration has since been in and out of court over the matter after a group of human rights workers and journalists sued the White House, claiming that the law could chill free speech in America by having reporters imprisoned merely for conversing with suspected terrorists. Despite vowing to not sign the NDAA into law, the Obama administration has defended the legislation vigorously in federal court during the last year.
"President Obama, who seemed once upon a time to respect civil liberties, has become the president who signed a law allowing for the indefinite detention of American citizens. Indeed, a law that allows an American citizen to be sent to Guantanamo Bay without a trial," Sen. Paul said on Thursday. "Now Pres. Obama defends his signing of this bill by saying he has no intention of detaining an American citizen without a trial. Likewise, he defended possible drone strikes on Americans by indicating that he had no intention of doing so."
"My 13 hour filibuster was a message to the president that good intentions are not enough," said the senator. "The filibuster was about drones, but also about much more. Do we have a Bill of Rights? Do we have a Constitution? And will we defend it?"
CPAC will continue throughout the weekend with appearances scheduled by other well-known members of the Republican Party, including House Majority Leader Eric Cantor, former House Speaker Newt Gingrich and billionaire real estate mogul Donald Trump.
You can share this story on social media: