Rand Paul blasts Congress for attacking Apple over taxes
Published time: 21 May, 2013 20:03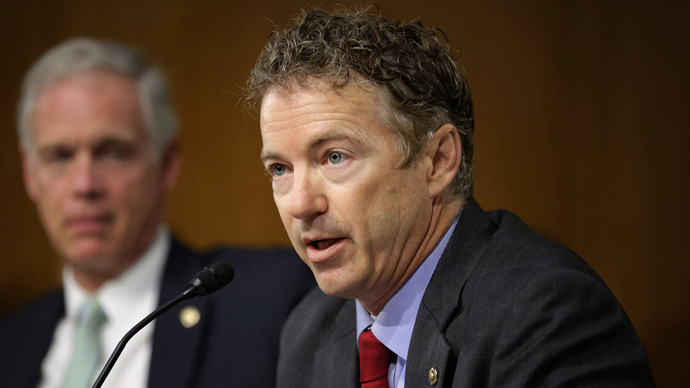 Sen. Rand Paul is outraged that Congress held a hearing to "bully one of America's greatest success stories." The Kentucky lawmaker believes Apple was unfairly targeted for trying to minimize its taxes, and that the company is owed an apology.
"It's absurd for Congress to vilify businesses like Apply for wanting to minimize their tax code just like every other American rightly does," Paul wrote on his Twitter account after the hearing.
"If you want to chase companies like Apple away, continue to vilify them," he wrote in a separate Tweet. "Congress should be giving Apple an award today."
During a Senate Permanent Subcommittee on Investigations hearing on the technology company's offshore tax practices, Paul told his congressional colleagues that he was offended that a hearing was being held in the first place. Apple CEO Tim Cook testified Tuesday morning to defend his company from allegations that it avoids tax payments by moving its profits to offshore subsidiaries in Ireland. 
Sen. Carl Levin (D-Mich.), chair of the subcommittee, said Monday that he has never before seen anything like Apple's tax "gimmickry", and that the company is taking advantage of technicalities in US and Irish tax laws to avoid paying taxes on a major portion of its profits.
The subcommitteeon Mondayreleased a report that says Ireland was a tax haven for the technology giant, which shielded $47 billion in profits from US authorities over the past four years through subsidiaries that had no official tax residence.
But Paul said bringing Cook in to testify was as if Congress was looking into a giant mirror. 
"Tell me one of these politicians up here who doesn't minimize their taxes," Paul told the committee. "Tell me what Apple's done that's illegal… I'm offended by the spectacle of dragging in American companies for doing something that isn't illegal."
Paul also said that "if anyone should be on trial, it should be Congress."
Levin fired back at Paul, telling him that the subcommittee hearing was not held to issue Apple any sort of apologies.
"Apple's a great company, but no company – no company – should be able to determine how much it's going to pay in taxes, how many profits they're going to keep offshore, how they're going to bring them back home, using all kinds of gimmicks to avoid paying the taxes to this country," Levin told Paul, arguing that Apple's decision to exploit tax loopholes could force the government to cut crucial social programs and increase taxes for other businesses.
But Paul continued to stand by his beliefs, blaming Congress for creating a "bizarre and byzantine" tax code that created the mess and going after an American job provider that employs 600,000 people.
"Everybody admits, even those that want to drag Apple before this committee, they admit that the tax code is our problem," Paul said, striking a blow at Congress for creating the intricate system.