Muslim scholar purged from US no-fly list in landmark court case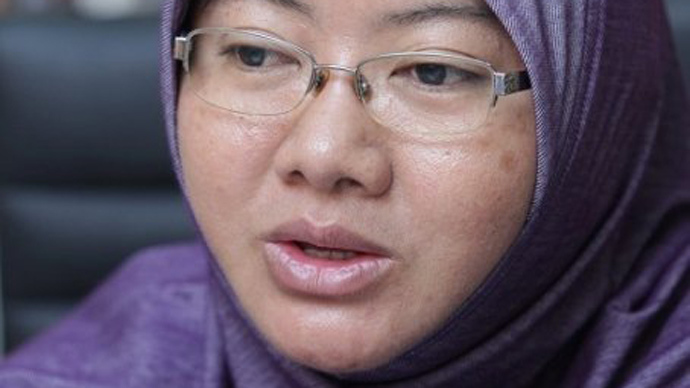 A federal judge in the United States sided with a Malaysian woman this week who for nine years fought the US Department of Homeland Security after inexplicably ending up on a government-maintained "no fly" list.
Rahinah Ibrahim, a former doctorate student at Stanford University who once called the US a "second home," must be assured that she is no longer barred from traveling into and around the country, District Judge William Alsup ruled on Tuesday.
Ibrahim was attempting to board a flight from San Francisco to Hawaii in 2005 with her teenage daughter when she was detained by authorities, interrogated for two hours and told she appeared on a federal "no fly" list. She was ultimately cleared for air travel, but two months later was instructed that her visa had been revoked due to a US terrorism law.
Federal Bureau of Investigation officers had previously visited Ibrahim at home to question her about any ties to a Malaysian terror group, she admitted during legal proceedings, but government officials were never able to prove any alliance. Later she settled a separate legal case pending from her detainment at the airport and received $225,000 as a result.
Ibrahim sought no compensation in the suit that cumulated with Judge Alsup's ruling this week, however, and instead had sued the DHS in order to find out why she was deemed unworthy of flying into the US. The federal government maintained throughout the case that its terrorism-related lists are highly sensitive, however, and have been far from forthcoming during Ibrahim's nine-year-long legal battle.
"We've tried to get discovery into whether our client has been surveilled and have been shut down on that," Elizabeth Pipkin, a lawyer representing Ms. Ibrahim, told the New York Times last year. "They won't answer that question for us."
"She doesn't want this to happen to other people -- to be wrongfully included on these lists that haunt them for years and years," Pipkin recently told Northern California's Mercury News. "No one knows how the targets get on the lists."
The lawsuit that cumulated with Tuesday's ruling was filed by Ibrahim with the intent of someday clearing her name from the watch list so she could return to the US. She met her husband there in the 1980s and is the mother of an American citizen, but had to finish her graduate work at Stanford remotely and said the government's actions damaged her professionally.
In this week's ruling, Judge Alsup said the addition of Ibrahim's name to that watch list was a "mistake" that "resulted from an error by the government," and ordered the DHS to drop her from the roster.
"The government concedes that the plaintiff is not a threat to national security," the judge wrote.
Ibrahim, Alsup wrote, is "entitled by due process to a ... remedy that requires the government to cleanse and/or correct its lists and records of the mistaken information."
After nine years, Pipkin said in an interview with Wired this week that she believes legal fee and court costs incurred while fighting Ibrahim's case have amounted to likely $4 million.
"Why in the United States of America does it cost that much to clear a woman's name?" Pipkin asked Wired.
You can share this story on social media: