US citizen stuck in Qatar after being added to no-fly list without explanation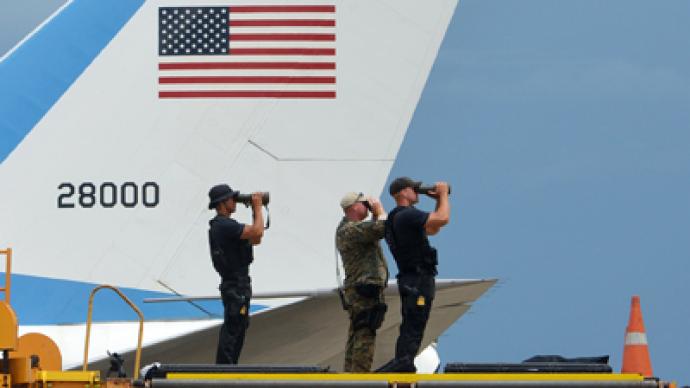 A Muslim-American male who grew up in the United States says he's barred from traveling home to visit his sickly mother because he's been placed on a federal no-fly list, even after serving 10 years in US Air Force.
Saadiq Long, 43, wants to travel to his hometown in the state of Oklahoma to visit his ailing mom, but for now he's stuck in the Arabian Peninsula nation of Qatar. According to an account he's provided to The Guardian, Long says he's been added to the US Department of Homeland Security's no-fly despite a decade of service to Uncle Sam. Now as he prepares for his second attempt to fly home to see his family, Long is asking questions to hope find out why he's been banned from boarding a plane bound to the US without ever being accused of a crime."I don't understand how the government can take away my right to travel without even telling me," Long tells Glenn Greenwald of The Guardian. "If the US government wanted me to question or arrest or prosecute me, they could have had me in a minute. But there are no charges, no accusations, nothing."The Department of Homeland Security doesn't have to explain why someone such as Long — a former Air Force staff sergeant — gets added to the elusive no-fly list that has been most recently reported to contain as many as 21,000 names from around the world. With Americans routinely being added without any rhyme or reason, it doesn't make his case all that unusual."What is happening to Saadiq happens to American Muslims with alarming regularity," Gadeir Abbas, a lawyer with the Council on American-Islamic Relations (CAIR), tells Greenwald. "Every few weeks I hear of another Muslim citizen who cannot return to the country of which he is a citizen.""It is as if the US has created a system of secret law whereby certain behaviors – being Muslim seems to be one of them – trigger one's placement on government watch lists that separate people from their families, end careers, and poison personal relationships. All of this done without any due process."That isn't to say that adhering to any certain religion or being of one race or another is necessarily what the DHS is searching for when it finds people to pull off American-bound planes. Only last month, Wade Hicks, Jr. — a 34-year-old white male from Louisiana — was stripped of his ability to board an airliner while in-between connecting flights. "They told me I had been placed on the no-fly list even though the Transportation Security Administration had cleared me to board the plane in San Francisco," Hicks told the Sun-Herald after being booted from a flight in Hawaii that he had planned to take to visit his wife, a US serviceperson stationed in Japan. According to Hicks, his outspoken political beliefs, including his opposition to the National Defense Authorization Act (NDAA) and its indefinite detention provisions, could have played a role."I was very, very vocal about the National Defense Authorization Act (NDAA) and I did contact my representative" about it, Hicks talk show host Doug Hagmann. "I do believe that this is tied in some way to my free speech and my political view."Hicks was eventually allowed to leave the Pacific island, but not before being stranded for a few days. Even after the fact, he said he was still as clueless as ever before as to why he wasn't allowed to leave."They have not apologized nor given me any reason," Hicks told the Associated Press.In the case of Long, he's purchased a second ticket back home and hopes that the DHS will clear his name when he tries to fly from Qatar to Oklahoma again this week. If he's denied a boarding pass, though, that could be it until any federal agency decides to dive into the matter."Obviously, I can't get to Oklahoma from Qatar if I can't fly," he tells the Guardian. "Trying to take a boat would take weeks away from work just for the travel alone, and it's not affordable. If I can't fly, then I can't go back home.""If he isn't allowed to fly home on the 8th," CAIR attorney Abbas tells the paper, "we will plan on mobilizing people to contact the Special Agent in Charge of the FBI field office in Oklahoma City. The FBI controls these lists and his intervention could end Saadiq's predicament."For an estimated 500 other persons with US citizenship, though, they are stuck waiting for the feds to take them from the no-fly list, where they remain with often no explanation at all.
You can share this story on social media: