Radical Jews want sex-segregated buses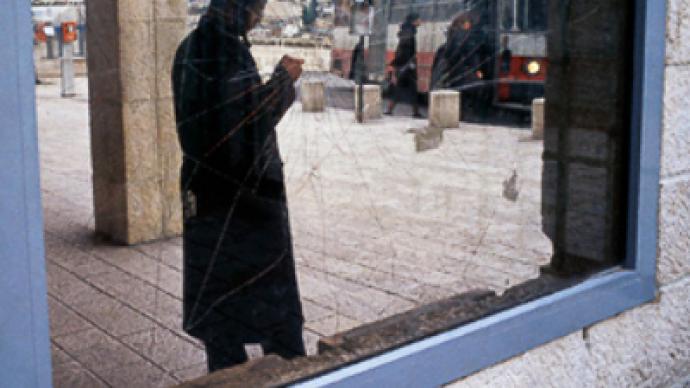 Ultra-orthodox Jews demand all busses going through orthodox areas to be sex-segregated, claiming normal vehicles force them to contact immodestly-dressed women, which offends their beliefs.
Ultra-orthodox, or haredi Jews, continue battling with one of the two largest Israeli state bus companies, Egged. Non-segregated busses make it difficult to avoid contact with "immodestly-dressed" women, they say, as they request segregated lines in religious regions 'that need them', meaning mostly the route to the Western Wall (an important Jewish religious site located in the Old City of Jerusalem).
There have been several protests in one of the neighborhoods in Jerusalem. Some 2000 ultra-orthodox Jews took part in the latest one under the slogan, "Travel the right way", held on Thursday.
The believers have forced some private companies to launch gender-segregated bus lines. There are at least 30 sex-segregated – or "mehadrin" – bus routes in the region already, 23 of which are inter-city. These vehicles have men seated in front and women in the rear, the arrangement seen as just on the edge of being illegal.

However, the country's transportation ministry is blocking the launch of additional sex-segregated bus lines.
Ron Ratner, Egged bus cooperative's spokesman, commented: "I find it inconceivable that piratical, aggressive and unruly lines, which go against the accepted norms in a well-managed western state, will be operated in Jerusalem. I believe that the Transportation Ministry will not allow such an attempt, which could hinder the reform it has introduced in the last decade."
However small the orthodox community is that demands segregated rides, their need is sincere, Yevgeny Satanovsky, the President of the Institute of the Middle East, told RT: "The idea that they will win some bonuses causes many doubts. Israel's orthodox sector has been very influential over the past 10 years and I believe this conflict will end with a compromise. If not, orthodox Jews won't be stopped in creating private orthodox bus companies".

Female passengers have often complained of harassment caused by their refusing to sit in the rear – once a woman was even beaten up by angered religious followers.
Jerusalem Councilwoman Rachel Azariah said, "I am a religious woman myself, and I know that there is no Halakhic [Jewish legal] requirement to separate between men and women on buses. In addition, this is a slippery slope: Will separate stores and sidewalks be next?"
Route for non-EU citizens
The new wave of segregation discussions was prompted by a recent controversial launching of a non-EU-citizens' bus service in the city of Foggia in the Puglia province in southeastern Italy. After several disturbances between local citizens and foreigners, area officials approved a bus line, route 24/i, parallel to the route 24 from suburban Mezzanone to the town, to take immigrants, mostly from South Africa and non-EU countries, to their hostels after work.
"We are not talking about racism, but about providing better service",
said Orazio Ciliberti, the mayor of one of the towns in the province,
"However, they are free to choose any bus line".
Meanwhile, not all of the officials agree about the decision, as some even label it racist. Nichi Vendola, the regional president of Puglia, commented: "The route for non-EU citizens in Foggia, which smacks of segregation, should be abolished as soon as possible".

Rosa Parks
There are reports of segregated busses still being used in several countries (e.g. Saudi Arabia, Afghanistan). But the topic is mainly associated with the fight for African American civil rights in the southern United States in the1950s.
Officially slavery was abolished in 1865, but segregation continued in almost every part of everyday life of Americans for almost one hundred years after that; from segregated schools, swimming areas and drinking fountains to busses.
According to American law, black people were forced to pay for the bus trip at the front door and then board using an entrance in the rear.
Bus drivers were even allowed to sometimes close the doors and drive away without waiting for black passengers to board.

However, the struggle for desegregating the American transit system began long before Rosa Parks, the famed African American civil rights activist, refused to give up her seat for a white passenger on December 1, 1955. But her move sparked the mass civil Montgomery Bus Boycott campaign in Alabama, which ended December 20,1956 with the U.S. Supreme Court's decision that declared laws allowing segregated busses were unconstitutional.

Rosa Parks, who was arrested for disobedience, became a national heroine and though her protest wasn't the first, her name is often referred to as among those people who changed American history.
Significant passengers
Mirriam Shear
An American-Israeli woman who was allegedly attacked and beaten by a group of haredi-Jewish men on her way to pray at the Western Wall during a bus-ride in Jerusalem. This was after she refused to sit apart from men, in the rear of a sex-segregated bus. The incident occurred while she was on her 5-week vacation to Israel in November, 2006. The case is still under investigation.
Irene Morgan
A Baltimore-born African American predecessor to the famed Rosa Parks. Morgan was arrested and jailed after refusing to give her seat to a white passenger in Virginia, in the U.S. This happened in 1944 – 11 years before Rosa Park's move and was followed by the Supreme Court's rule that Virginia's state law enforcing segregation on interstate busses was illegal.
Sarah Keys
An African American woman who refused to move to the rear of the bus to give her seat to a white couple on August 1, 1952 in North Carolina. The bus driver drove her to Virginia, called for the sheriff, who arrested Keys and jailed her in Virginia for violating Virginia segregation laws, which was ruled illegal after the Montgomery bus boycott in 1956.
Claudette Colvin
Colvin, from Alabama, is considered a pioneer of the African American civil rights movement. In 1955, at the age of 15, she refused to give up her seat to a white person during the Montgomery bus boycott, violating local laws. Her arrest came 9 months before Rosa Parks was arrested for the same reason.
You can share this story on social media: