Racist gangs took over LA County Sheriff's Department, deputies claim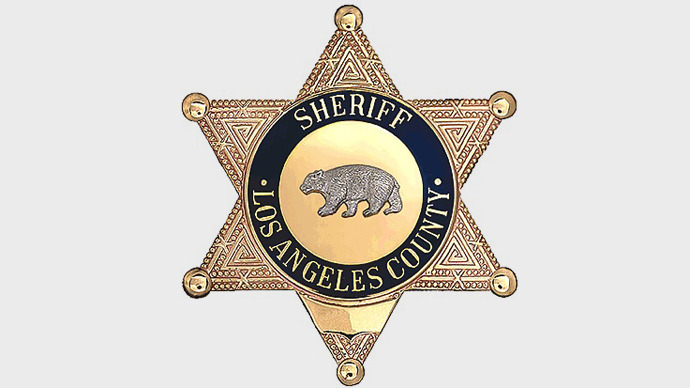 Deputies at an LA county sheriff's department allege that their superiors are members of white supremacist gangs and have taken extensive measures to hide at least one inmate from the FBI.
Two deputies at the LA County Sheriff's Office have jointly filed a lawsuit alleging that the department hid an inmate from the FBI, covered up an incident involving a skinhead deputy, threatened to kill the deputies for exposing their gang involvement, and called them "race traitors" and "snitches".

"An inappropriate relationship exists between certain LASD personnel and various inmate jail gangs, especially white supremacist," states the complaint, which was filed by deputies Michael Rathbun and James Sexton.
"LASD personnel use these jail gangs as proxies or agents to retaliate against other LASD deputies and inmates. Within these inappropriate alliances, the gangs are given certain privileges that are otherwise legally precluded from them." The deputies filed the suit in federal court against the LASD, Sheriff Leroy Baca, Undersheriff Paul Tanaka, Lt. Greg Thompson and "Detective Perkins". The 39-page report outlines their alleged activities involving white supremacist gangs.
Lt. Thompson and Undersheriff Tanaka were allegedly part of a racist cop gang called "the Vikings", the complaint states. Members of this police gang are required to have the group's symbol tattooed on their bodies.
The deputies who filed the suit claim that they were ordered to transfer and hide an inmate from the FBI in August 2011 "in an effort to obstruct a federal investigation" . They claim that their superiors frequently ordered them "to engage in activities meant to 'keep the FBI out of the jails.'" In February 2012, an informant told the deputies, who worked in an intelligence unit known as Operation Safe Jails (OSJ) that Deputy Joseph Britton was associated with a powerful white gang member while on duty as a law enforcement official. After OSJ members discovered that Sexton and Rathbun knew about Britton's involvement, they threatened to harm the deputies if they didn't keep quiet. The informant's life was also threatened. When the 'powerful gang member' was moved to another prison, Sexton and Rathbun were accused of conspiring to make it happen.
"The OSJ team at Men's Central Jail refused to work or cooperate with Rathbun and Sexton. In fact, MCJ [Men's Central Jail] deputies accused Rathbun of 'fucking up their program' by moving the powerful white gang member from MCJ," the complaint states.
"At all relevant times, certain members of OSJ associated with, and cooperated with, certain jail gangs, including partaking in illicit activities. Sheriff Baca and/or Undersheriff Tanaka knew or should have known about these improper relationships, but took no action to stop it and implicitly ratified the improper conduct." Tanaka allegedly encouraged deputy gangs within the LASD and directed them to "operate outside the confines of the law, in contravention of state and federal laws." Those associated with the gang members continued to threaten and intimidate Sexton and Rathbun. One of the deputies says he turned to alcohol to cope with the pressure and eventually got caught driving under the influence. Unidentified department officials then tried to leak a video of his arrest to the media "to discredit Rathbun and ruin his life", the complaint states. His misdemeanor DUI charge was eventually upgraded to a felony "without any notice". The deputies also suffered verbal abuse from members of the LASD who were involved with the white supremacists, according to the lawsuit.
"LASD personnel, using jail gangs as their agents, labeled Rathbun and Sexton as 'race traitors," the complaint states.
After months of abuse and harassment, the deputies went to the FBI to complain about their superiors. Their actions were discovered by LASD personnel, who suspended Rathbun without pay as retaliation.
Rathbun and Sexton are now seeking damages for retaliation, malicious prosecution, constitutional violations, conspiracy and harassment. They have requested a jury trial and compensation for lost wages and benefits.
You can share this story on social media: