Pulitzer-winning cartoonist angers 'demonized' Jews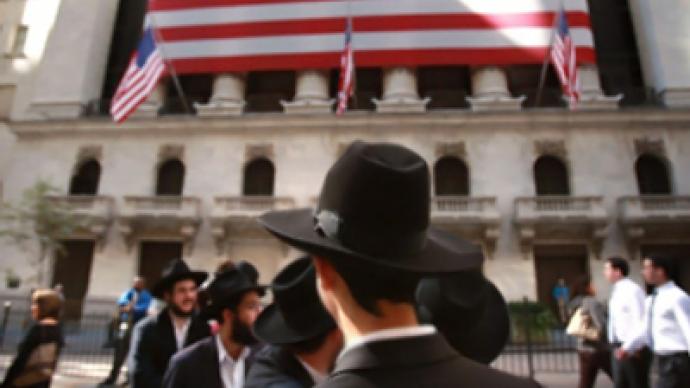 Several US Jewish human rights groups said they were outraged by a cartoon, depicting Israel's treatment of Gaza in an outwardly negative way. The newspapers which published it were accused of anti-Semitism.
The picture, authored by veteran political cartoonist Pat Oliphant, shows a marching headless figure in military uniform rolling a shark-headed Star of David over a tiny woman labelled 'Gaza'. The syndicated drawing was published on Wednesday in newspapers all over the United States.
AP reports that the Simon Wiesenthal Center, an LA-based Jewish human rights group, called on the News York Times and other news outlets to remove the cartoon, which they said is meant to denigrate and demonize Israel.
"The imagery in this cartoon mimics the venomous anti-Semitic propaganda of the Nazi and Soviet eras," Wiesenthal Center officials said in a statement. "It is cartoons like this that inspired millions of people to hate in the 1930s and help set the stage for the Nazi genocide."
Abraham Foxman, National Director of the Anti-Defamation League, called the cartoon hideous and anti-Semitic.
He told CBS 2 HD: "To compare Israelis defending their men, women, and children against bombs as Nazis is beyond provoking debate or response. It is bigoted."
So far, no comments came from either Oliphant himself or the newspapers which published his cartoon.
Pat Oliphant is one of the most widely syndicated cartoonists, and won a Pulitzer Prize in 1967. His acidic drawings offended different groups on various occasions, including Chinese and Arab organisations.
His latest work refers to the Operation Cast Iron launched by Israel in December 2008 against Palestinians in the Gaza Strip. Israel said it wanted to stop activists of the radical group Hamas from shelling Israel territory with Kassam rockets.
The offensive claimed more than 1,400 lives of the Palestinian population, many of them civilians. Israeli military were accused by various human rights groups and official investigators of disproportionate use of force and violating rules of engagement. Israel argues the accusations are part of a defamatory campaign, and point at atrocities committed by Hamas.
You can share this story on social media: