Report: $2bln Medicaid program mostly helps illegal immigrants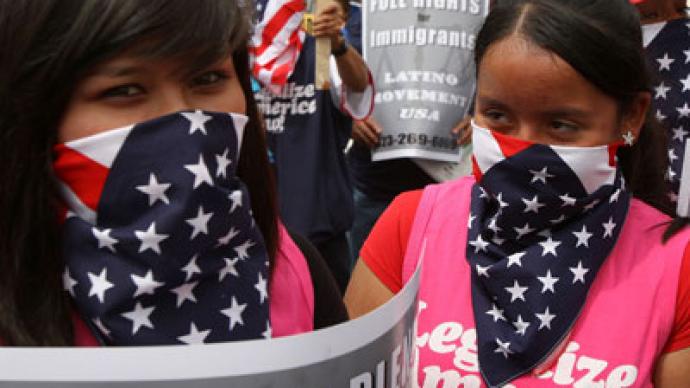 President Obama has repeatedly pledged not to provide healthcare to illegal immigrants. But what's often overlooked is that a Medicaid program annually provides $2 billion of free emergency care to patients, most of whom are illegal immigrants.
In trying to garner support for the Affordable Care Act in 2010, the administration and those supporting the law promised that illegal immigrants would not gain coverage from the new healthcare legislation. But what many don't realize is that for decades, illegal immigrants have been receiving free healthcare under the Emergency Medicaid program, Kaiser Health News reports.The health insurance program pays for $2 billion of annual emergency treatment for patients consisting mostly of illegal immigrants. Since hospitals are not allowed to turn away patients with an emergency medical condition, they frequently treat illegal immigrants, many of which appear in emergency rooms for help delivering a baby."We can't turn them away," Joanne Aquilina, chief financial officer of the Florida-based Bethesda Healthcare System, told Kaiser Health News. Due to its proximity to farmland that employs illegal immigrants, Bethesda Health takes in many immigrants. Nearly one-third of its 2,900 births are paid by Emergency Medicaid, which provides care for illegal immigrants and homeless people. Hospitals are not allowed to ask patients whether they are in the US illegally, and are only able to determine their status after treating them.Emergency Medicaid is available for low-income, uninsured individuals suffering from serious medical conditions that require an emergency visit. Those who are eligible are not required to pay for the services they receive.But since hospitals typically cannot determine their emergency patients' legality until after treatment, illegal immigrants are able to continuously reap the benefits of the government-funded healthcare program. A 2007 report by the Journal of the American Medical Association found that in a four-year period, about 99 percent of those who used Emergency Medicaid were determined to be illegal immigrants.Some believe that the program prompts foreign nationals to illegally cross the US border to receive free treatment – and to give birth at US hospitals, helping their children to become American citizens. The Federation for American Immigration Reform estimates that tens of thousands of American babies are born to illegal immigrants each year, which also helps their mothers more easily become citizens themselves.Critics of the program argue that the $2 billion annual spending on healthcare mostly delivered to illegal immigrants could be saved or reduced by preventing illegal immigration in the first place and tightening US borders. But it's a situation that's tough for every side: those supporting the healthcare option for illegal immigrants argue that the patients are unable to receive long-term care or prenatal care after delivering a baby."It's a lose, lose, lose," Sonal Ambegaokar, a health policy lawyer at the National Immigration Law Center, told Kaiser News.And since emergency rooms are not allowed to turn away patients with serious conditions or ask about their legal status, it's a problem that won't easily be solved – or often acknowledged by the administration that promises not to spend money treating illegal immigrants.More than 100,000 people receive the Emergency Medicaid treatment annually. About half of the $2 billion budget goes to California – the state with the largest estimated number of illegal immigrants. Texas, New York, Illinois, and Florida – states that are within the top five most populated by illegal immigrants – also receive a large chunk of the budget.While lawmakers promised that the Affordable Care Act would not provide healthcare to illegal immigrants, it did not address existing legislation that already does so for as many as 100,000 patients a year.
You can share this story on social media: