Snowden slip: Grand jury probe firm that vetted NSA leaker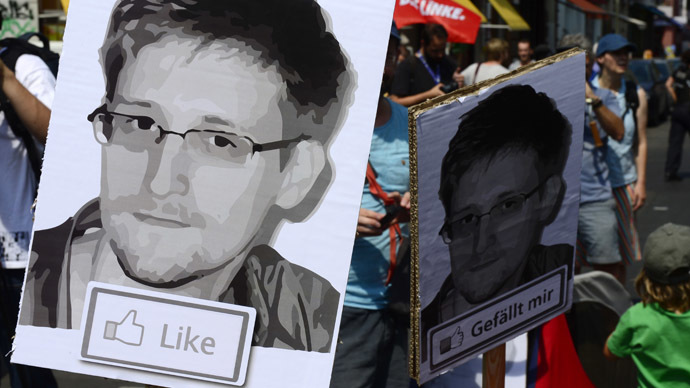 The company that cleared CIA employee-turned whistleblower Edward Snowden in a security review is being probed by a federal grand jury. There are suspicions the firm may have blundered Snowden's background check by cutting corners.
Federal prosecutors and the FBI suspect that US-based firm USIS, the largest background checks firm working with the US government, botched a security check on Snowden, the Wall Street Journal reported.

The contend USIS cut short the vetting process in the 2011 investigation, potentially leaving out crucial details that could have prevented the security breach that led to the massive release of US classified data by Snowden in May.

According to the WSJ a grand jury has already filed subpoenas against several of the company's employees.
If discrepancies are found in the investigation that they carried out on Edward Snowden, it could potentially amount to a violation of the False Claims Act, which punishes persons and companies that defraud US government programs.

The USIS has said they are fully cooperating with the federal investigators in their probe and maintain their background check on Snowden was done correctly.

"With respect to this matter, the company has been cooperating fully with the government throughout its investigation and continues to do so," USIS said in a statement. The FBI refrained from commenting on the affair.


'Flushed through the system'

Of particular interest to the investigation is the practice of "flushing" whereby the subject of a background check can be pushed through the system, even if there are worries over the candidate's credentials.

Several of the USIS' ex-employees told WSJ they had been pressured to "flush" unfinished security checks through the system.

The USIS deals with a large quantity of security background checks coming from more than 95 federal agencies. According to the firm's site it currently has 100 current contracts with the Federal services.

The USIS was part of the federal US Office of Personal Management (OPM), but was privatized in 1996.
Currently around 5 million people currently possess some sort of government security clearance according to statistics from a 2011 report by the Director of National Intelligence.

Whistleblower Edward Snowden is currently in Russia where he has been granted temporary asylum by the Russian government. The US has an extradition order out against him on charges of espionage for the information on the inner workings of the US secret services that he leaked to press.

Washington has said they are "disappointed" with Russia's decision to grant Snowdon asylum and have said the move may have a detrimental effect on bilateral relations.

You can share this story on social media: