US govt prevented drone strike victims from meeting with Congress, lawyer claims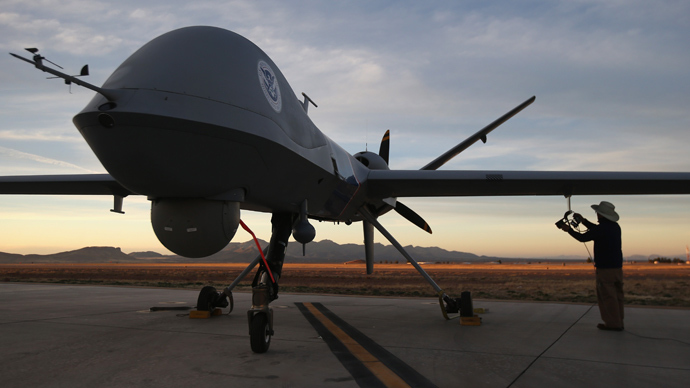 The lawyer representing a family that survived of an alleged CIA drone strike in Pakistan has accused the US government of intentionally obstructing what would have been the first meeting between surviving drone strike victims and American lawmakers.
Shahzad Akbar, the director of the Pakistan-based Foundation for Fundamental rights and a legal fellow with Reprieve, a British human rights group, told The Guardian he planned to travel with his clients to Washington next week but the US State Department failed to grant him a visa for political reasons, although the family was granted visas.
Akbar represents Rafiq ur-Rehman, his son 13-year-old Zubair ur-Rehman, and daughter, nine-year-old Nabila ur-Rehman. The family hails from the tribal regions of north Waziristan and have asserted that the children were injured in a drone strike last year that killed their grandmother (Rehman's mother) Mamana.
The CIA does not publicly acknowledge specific drone strikes or the events surrounding them but recent estimates have determined that an estimated 3,105 people have been killed in drone strikes in Pakistan. While the official total remains murky, civilians are thought to make up at least 17% of that total, including at least 175 children, according to Pitch Interactive, a Berkley-based data visualization study group.
Akbar, who has had previous run-ins with the State Department, said his clients have spent months preparing to make the trip, although  its fate now seems dubious at best.
"It's not like my name is scratched because there is some sort of confusion. My name is blocked," he said. "Before I started drone investigations I never had an issue with US visa. In fact, I had a diplomatic visa for two years."
The lawyer was due to arrive in the US in April 2012 to speak at a Washington conference called Killing and Spying by Remote Control, which was sponsored by the Center for Constitutional Rights and other advocacy groups. Akbar said he has consistently been denied visas since he sued the CIA over drone activity in Pakistan.
"Denying a visa to people like me is denying Americans their right to know what the US government and its intelligence community are doing to children, women, and other civilians in this part of the world," he said in 2012. "The CIA, which operated the drones in Pakistan, does not want anyone challenging their killing sprees. But the American people should have a right to know."
Alan Grayson, the Florida congressman who led the effort to bring the Rehman family to the US and in front of Congress, said the State Department has yet to provide a "specific reason" clarifying the issues with Akbar's entry.
"I don't know why the State Department has taken this action, but I think it's extremely important that when it comes to a national security matter like drone attacks, we hear not only from the proponents of these attacks, but also from the victims," he told The Guardian. "We have a chronic problem in Congress that when the administration is involved in one side of the issue, we rarely hear about the other side of the issue."
You can share this story on social media: