US drone attacks violate Pakistani sovereignty – UN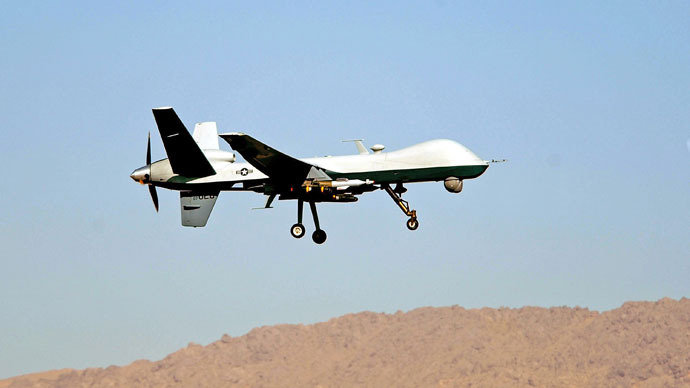 US drone strikes in Pakistan violate the country's sovereignty, the head of a UN team investigating casualties said after a secret research trip. According to him, the Pakistani government has confirmed at least 400 civilian deaths by US drones.
UN special rapporteur on human rights and counterterrorism Ben Emmerson, who visited the region, has said that Pakistani officials made it clear the government does not consent to the strikes.

Emmerson's investigation team has gathered numerous reports from residents who witnessed the terrifying attacks.

"Adult males carrying out ordinary daily tasks were frequently the victims of such strikes," a statement from the UN office for human rights said.

The strikes have sparked growing controversy due to their secret nature. However, the US has denied that its attacks have killed hundreds of people.
"The position of the government of Pakistan is quite clear," said Emmerson."It does not consent to the use of drones by the United States on its territory and it considers this to be a violation of Pakistan's sovereignty and territorial integrity."
The drone campaign, he stressed, "involves the use of force on the territory of another state without its consent and is therefore a violation of Pakistan's sovereignty," he said.
The statement, initially released on Thursday, came days after Emmerson ended his three-day visit to Pakistan. The visit was kept secret until Emmerson left the country.
Pakistan has repeatedly protested drone attacks President Bush initiated almost 10 years ago, saying that they violate the country's sovereignty and result in numerous deaths. However, this position has been disputed by US officials, who insist the drone attacks were part of the US War on Terror campaign, targeted at bringing down Taliban and Al-Qaeda militants in Pakistan. 
In 2011, Pakistani Army chief Ashfaq Parvez Kayani officially sanctioned the shooting down of US drones. The directive followed a US airstrikes that killed 24 Pakistani soldiers in November 2011. In retaliation, Pakistan closed US access to its Shamsi airbase in the southwest of the country, which was allegedly used to launch drones.
According to the Bureau of Investigative Journalism, from June 2004 through mid-September 2012, between 2,562 and 3,325 people were killed in drone strikes Pakistan, mostly in the North Waziristan region.  Some 474 to 881 of those killed were civilians, including 176 children. Another 1,300 were wounded.

The UN began its investigation into civilian casualties from drone strikes and other targeted killings in Pakistan, as well as in several other countries, back in January. Its conclusions are expected later in October.

You can share this story on social media: