Two killed, half-million left with no power by Mid-Atlantic storms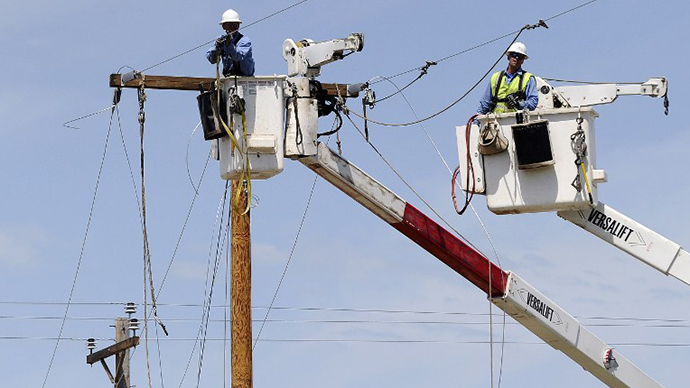 Almost 500,000 US homes and business were without power on Friday after a series of severe storms ripped through the Mid-Atlantic, downing trees and power lines. One woman was fatally struck by lightning and a 4-year-old was killed by an uprooted tree.
The storm system brought tornadoes, high winds, lightning, flash floods and thunderstorms to the Midwest and Mid-Atlantic, but it was not as severe as meteorologists initially anticipated.
On Wednesday, meteorologists forecast that a 240-mile wide storm with 58 mph winds, known as a "derecho", would cause severe damages across 10 US states. The storm system was less severe than predicted, but nevertheless left at least 500,000 homes and businesses without power on Friday, mostly in the Mid-Atlantic.
A bridge that leads to Maryland's Eastern shore was temporarily closed when the storm system arrived Thursday afternoon, and two schools were closed in Montgomery County, Maryland,on Friday. Several schools that lost power in North Carolina were also closed the morning after. 
In Atlanta, winds were as high as 70 mph and 900 lighting strikes were reported in a 10-minute span, CNN affiliate WBC TV reported.
Three tornadoes were reported in Maryland, and two storm-related deaths occurred in the Mid-Atlantic.
A 19-year-old woman who interns at a zoo was fatally struck by lightning while she was feeding the animals in Rising Sun, Maryland. A 4-year-old boy was crushed to death by a tree that uprooted while he was at a 100-acre Victorian estate with his father in Richmond, Virginia.
"The estate was being evacuated… in preparation for the violent storm… when the boy and an adult male with the boy were struck," the Maymont Estate posted on its Facebook page.
In Raleigh, North Carolina, several fallen trees damaged the homes of residents. Homeowner Kelly Kopp told WRAL News that a tree had smashed through the roof of her house, destroying parts of the master bedroom and bathroom.
"It's pretty much a humongous tree laying diagonally over my house," she said.
Although the storm system caused less damage than meteorologists initially predicted, it is likely that hundreds of thousands of Americans will be living in the dark for several days. Duke Energy Corp., the biggest power company in the US, reported that more than 350,000 customers were out of power on Thursday, and 240,000 were still in the dark on Friday. In total, nearly 500,000 homes and businesses remained out of power the morning after the storms hit the Mid-Atlantic.
"Be prepared for [a multi-day outage]," Duke Energy spokeswoman Lisa Hoffman told WRAL News. "The structural damage is what will require our crews to take extra time. We'll be replacing power poles and more."