Washington Post fights censorship accusations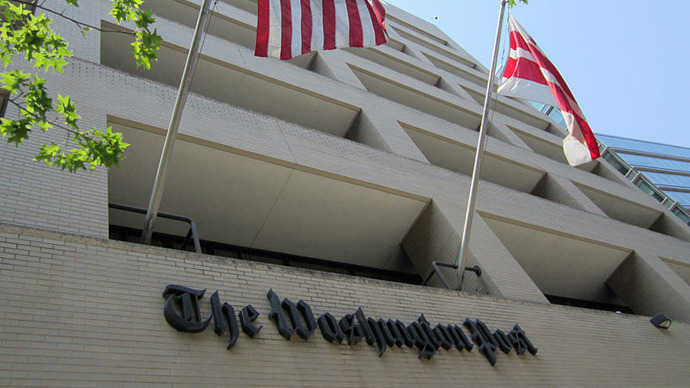 An American journalist with a long history of covering national politics says the Washington Post wrongly threw out an op-ed he penned last week that critiqued the media's role in the Iraq War.
Greg Mitchell, an accomplished author and reporter with by-lines throughout his career in both the Post and New York Times, says the DC-based paper tossed out an assigned piece of his slated to run this week, instead replacing it with one nowhere near as critical.
Miller says he was commissioned by the Post to write about the American media's blunder during the days leading up to the 2003 invasion of Iraq, and in turn handed in a hard-hitting analysis that examines the shortcomings of US journalists who failed to ask the right questions as the Bush administration ramped-up calls for war by feeding disinformation.
"By 2004 it was clear that Saddam's WMDs would never be found, but with another election season at hand, sorry was still the hardest word.  But a few very limited glimmers of accountability began to appear," his rejected blog post, since picked up by The Nation, starts up.
In the piece Miller handed into the Post, he notes that while many publications eventually owned up to a series of gaffes in the days before the US-led invasion, apologies did not occur across the board. He cites a thousand-word essay from Pres. George W. Bush's former speechwriter published recently in the Daily Beast and other remarks published by writers at Bloomberg and Esquire, but by-and-large, Miller suggested, American reporters have failed to admit that their own errors helped launch a war. He even didn't shy away from some scathing words for the very publication that commissioned him.
"Unlike the Times, Washington Post editors three months later did not produce their own explanation but allowed chief media reporter Howard Kurtz to write a lengthy critique," Miller wrote. "Editors and reporters admitted they had often performed poorly but offered one excuse after another, with phrases such as 'always easy in hindsight,' 'editing difficulties,' 'communication problems' and 'there is limited space on Page 1.'  One top reporter said, 'We are inevitably the mouthpiece for whatever administration is in power.'"
But while Miller says he was asked to write this editorial for a recent edition of the Post, he never got his by-line. His editors told him the draft he handed in "didn't offer sufficient broader analytical points or insights," he says, and eventually it was canned. In its place, however, ran another article that Miller vehemently attacks on his personal blog this week.
"The Washington Post killed my assigned piece for its Outlook section this weekend which mainly covered media failures re: Iraq and the current refusal to come to grips with that (the subject of my latest book)—yet they ran this misleading, cherry-picking, piece by Paul Farhi claiming the media 'didn't fail,'" he writes.
Farhi's piece, published Friday in the Post's opinion section, takes a stance much different than Miller's right off the bat. The title, in fact, reads: "On Iraq, journalists didn't fail. They just didn't succeed."
"There's no doubt that many news organizations, including this one, missed important stories, underplayed others that were skeptical of the administration's case and acted too deferentially to those in power," Farhi writes. "But 'failure' grossly oversimplifies what the media did and didn't do before the war, and it ignores important reasons the reporting turned out the way it did."
"As new threats loom, from Iran to North Korea, better understanding these circumstances can help us assess what happened and whether we're better positioned today," Farhi writes.
If Miller's blog response is any indication, he is far from amused. "I love the line about the Post in March 2003 carrying some skeptical pieces just days before the war started: 'Perhaps it was too late by then. But this doesn't sound like failure,'" he writes.
The Guardian's Roy Greenslade has since picked up on Miller's blog, and has responded with a piece of his own. With that case, though, Greenslade sided with something the Post surely wouldn't be willing to print as a headline. His piece is called "Washington Post accused of censorship."
The Post has since fired back, issuing a statement saying they thought Miller's piece "offered too much of a rundown of the apologies, rather than drawing many broader analytical points or insights. So we decided against running it. We expressed this to Mr. Mitchell and offered him a kill fee. He expressed his disagreement."
You can share this story on social media: