Mistake or not? People who started Iraq war are having second thoughts
The number of Americans thinking the Iraq invasion was a good thing dwindled from 75% in 2003 to 42% in a recent Gallup poll. RT asked some of the politicians behind the decision to intervene if ten years on they still think it was right thing to do.
The 2003 "shock and awe" attack on Baghdad, which began an almost decade-long campaign in Iraq was first to be approved of by US and British MPs The two countries summoned the so-called 'coalition of the willing', after the UN Security Council did not agree on a military operation in Iraq. The pretext for invading was allegations Iraq had weapons of mass destruction. As they've been never found, the main justification for the invasion is lacking.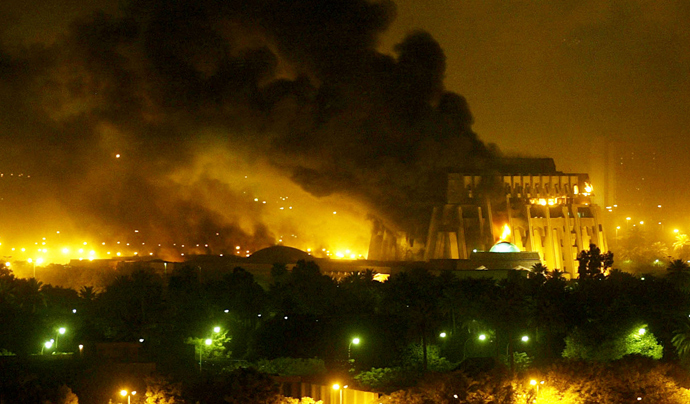 Still, some of those who voted for invading don't think they were wrong:
"No, I don't regret voting in that way, because I think the people of Iraq have been freed… Of course, you regret any number of people who died, but the big question is: what was the intent of Saddam Hussein against his own people? We have already seen that we had a very repressive regime," Liam Fox, UK Conservative Party chairman from 2003 to 2005 said RT. 
What Iraqis got in exchange for "a very repressive regime" could hardly be called a better and safer life. In fact it has been ten years of bloodshed, which is not over yet. Baghdad is seeing explosions in its streets almost on a daily basis.
At least 134,000 civilians in Iraq have lost their lives following the US-led invasion and according to a report by the Watson Institute for International Studies at Brown University the overall number of casualties could be 4 times higher. Around 5,000 coalition soldiers died according to estimates by iCasaualties.org. UN High Commission for Refugees says more than 2 million people were displaced in the conflict.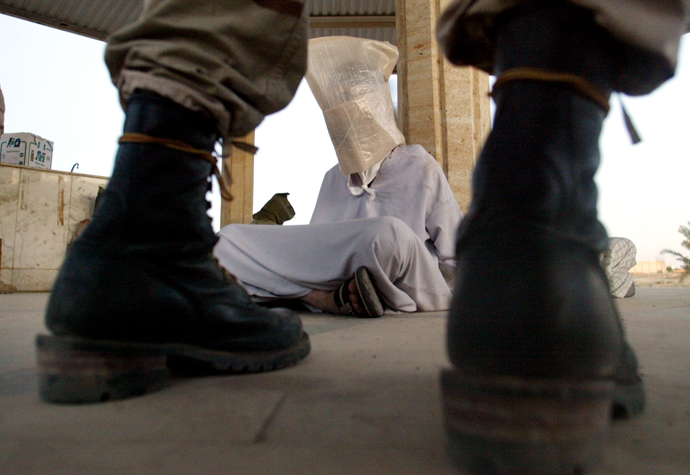 Add to that the US war expenses, which the Brown University study has so far put at more than 2 trillion dollars. And still some American military officials remain undaunted by the numbers and believe what they did 10 years ago was actually a good thing.
"I think it was very necessary for us to do something to help the Middle East achieve a degree of freedom that it hadn't had before. Now, a lot of people are going to argue with that, the Iraq invasion did not provide the types of freedom that we had originally envisioned, but what they were dealing with was the regime that did not allow any freedoms and now, depending on where you are in Iraq, there's at least a semblance of some freedom," Col. Cedric Leighton from Washington DC told RT.
He didn't specify where exactly the places with semblance of freedom are to be found.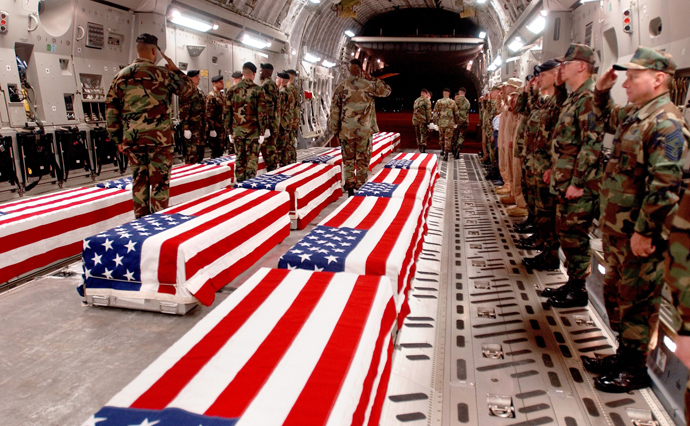 The number of Americans, thinking the military campaign in Iraq wasn't worth it has been growing. Ten years ago a Gallup poll showed 75% were for and 23% against the invasion. According to the same poll, conducted on the eve of the 10th anniversary, 42% still support the move while 53% of Americans consider it a mistake.
At least some of the decision makers have joined those 53 percent and acknowledge they were wrong.
"In anyone's candid moments, they will tell you were it not for the WMD, we wouldn't have authorized use of force there," said Senator Jeff Flake in an interview with USA Today.  Flake, who as a member of the House voted in support of the joint resolution that led to the Iraq invasion, went on to say: "I don't attribute any nefarious motives to President Bush or those involved. I think we were just wrong. Sometimes, you're wrong."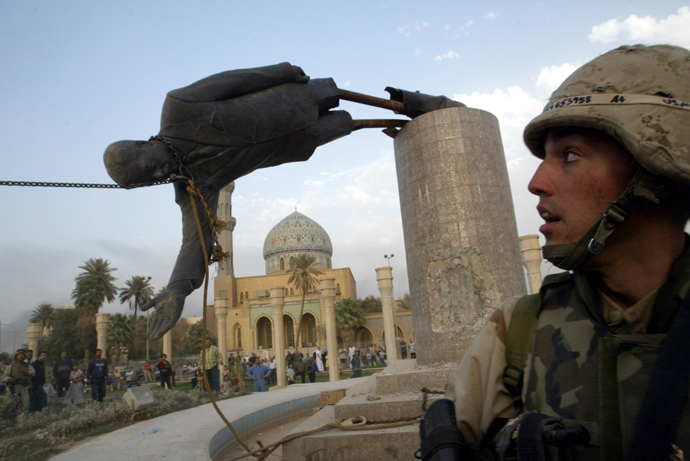 Among British decision makers acting a decade ago there's also a man, who changed his mind. Lord John Prescott, who in 2003 was Tony Blair's Deputy Prime Minister and believed a military operation against Saddam Hussein was necessary told RT he would not agree to it, if he had known what he knew now. He believes it was regime change, though "it always used to be denied that it was regime change."
"And I want the lesson to be learned and we shouldn't repeat it again. These countries must develop in their own ways," Lord Prescott concludes.
You can share this story on social media: