Vigil for teen found shot in police car ends with tear gas, arrests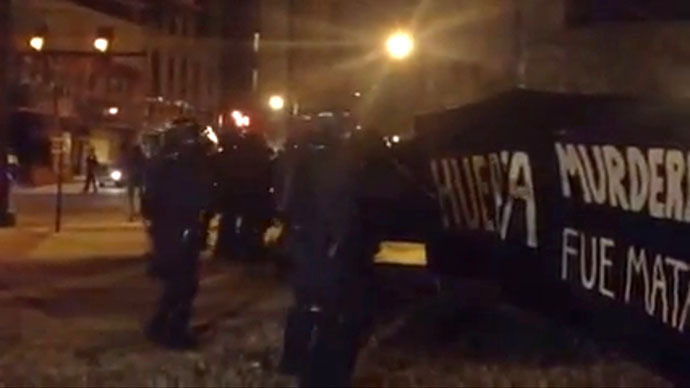 A vigil meant to commemorate the memory of a teenager who was fatally shot in the head while in police custody last month turned to panic Thursday night when police in full riot gear deployed tear gas to disperse the mostly peaceful crowd.
Jesus Huerta, 17, died of a gunshot wound to the head on November 19 in Durham, North Carolina. The police department has said that Huerta shot himself, an assertion that has become a subject of outrage in the community because Huerta was at the time handcuffed in the backseat of a patrol car when he was shot. The vehicle was parked behind a police building at the time of his death.
A police report filled out by Officer Samuel Duncan noted that Huerta had been searched at the time of his arrest, and no gun was found on him. Huerta is the third minority man to be killed in shootings involving city police within the past four months.
Check out the @newsobserver photo gallery from the vigil & march for Jesus Huerta in #Durham: http://t.co/rYBSABkWaVpic.twitter.com/7dJ5IvcloB

— Al Drago (@Al_Drago) December 20, 2013
Police Chief Jose Lopez attempted to calm nerves during a press conference last week but only seemed to do the opposite when he said police were trying to determine if Huerta shot himself intentionally or by accident.
"I know that it is hard for people not in law enforcement to understand how someone could be capable of shooting themselves while handcuffed behind the back," he said. "While incidents like this are not common, they unfortunately have happened in other jurisdictions in the past."
Seeking answers and an opportunity to mourn, about 150 protesters joined Huerta's friends and family to march for a second time on the Durham Police department Thursday. Both the police and the demonstrators previously maintained that the rally would be a peaceful one, with those involved apparently hoping to avoid the few vandalism arrests that dominated headlines following the first march.
Yet as 7:30 pm approached, some protesters began to lob firecrackers and at least one bottle at police officers, some of which were wearing full face shields and other tactical equipment. One demonstrator carried a sign that read "Murdered by Police," waving it as an officer used a loudspeaker to warn that anyone who walked on police department property would be arrested for trespassing.
The Huerta family pleaded with protesters to remain calm, with many of those on hand respecting their wish and leaving as police fired tear gas in response to the fireworks. Six people were arrested, four of whom were teenagers, according to the Durham News Observer.
Evelin Huerta, Jesus' sister, issued a statement Friday calling on Chief Lopez to resign over the incident.
"The actions of the Durham Police Department last night, led by Chief Lopez, were a tried and true tactic to intimidate and spread fear into our community," she said. "The Durham Police cannot be trusted to investigate my brother's death, and we need a federal investigation."
You can share this story on social media: