Police tighten security in Times Square considering it possible terrorist target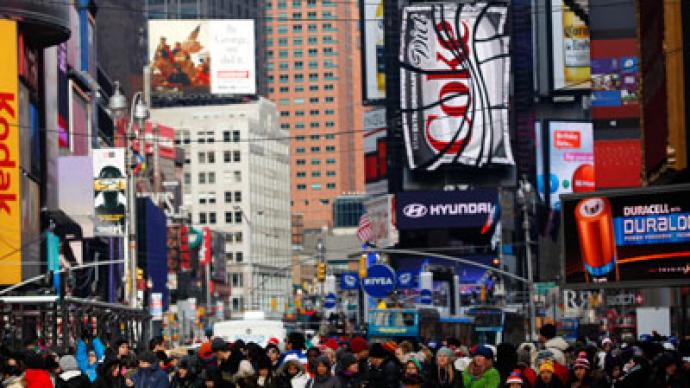 In fear of potential terrorist attacks, the New York Police Department will assign thousands of extra patrol officers to monitor and control the crowd gathering to celebrate New Year's Eve in Times Square.
To ring in the New Year, hundreds of thousands of people will crowd into Manhattan to watch the crystal ball drop at midnight. Up to a million people are expected to attend. But since the 9/11 terrorist attacks, security around the event has been increasing to a level that some consider an 'obsession'."There will be an enormous number of police officers, including most of our new class of 1,200 police officers that we swore in last week," said New York City Mayor Michael Bloomberg. "There will be an awful lot of police there in plainclothes. That person standing next to you may very well be a cop."There are currently no specific terror threats facing the annual festivities, but Police Commissioner Raymond Kelly told the Associated Press that Times Square is always on a potential terrorist's radar and is therefore taking serious precautions.Each year, police step up their security to guard against any potential attacks. Searching for suspects, they are instructed to closely watch anyone they consider 'suspicious'."We ask them to monitor people coming into the hotels very closely," Kelly said. The NYPD believes a potential terrorist could easily launch a sniper attack from the privacy of a hotel room overlooking Times Square. As a result, the police have urged hotel managers to be on the lookout for anyone they suspect might have malignant intentions.Additionally, police are starting to patrol Times Square much earlier than usual. Since thousands of people flock to Midtown Manhattan long before midnight, authorities are now beginning their shifts during the daytime.To keep the crowds under control, police are also using barriers to prevent overcrowding and are banning alcohol, large handbags and backpacks."You come to Times Square, we will check backpacks," Bloomberg warned. "You cannot bring alcohol or drugs. Don't try to do it. You're not going to get away with it."Bomb-sniffing dogs and armed counter-terrorism teams will patrol the area and inspect vehicles. Plainclothes officers will be deployed to inconspicuously search the crowds for suspicious people, many of which will wear radiation detectors that can detect dirty bombs.Manholes will be sealed and mailboxes will be removed to limit a potential terrorist's options to hide a bomb, while closed-circuit security cameras will monitor Midtown Manhattan and its subway system.All visitors must also go through a metal detector to enter Times Square, and those who leave the area before the ball drops might not be able to return. With no public bathrooms in the area, the restrictions could prove difficult for those who plan to arrive early, and especially for those arriving early Monday morning.While some might call the NYPD security excessive, the department's concerns are not unfounded. Earlier this month, a Pakistani-born man said he wanted to avenge the deaths of US drone attacks in Afghanistan by bombing a New York City landmark. The naturalized citizen and Florida resident, 20-year-old Raees Alam Qazi, confessed that the only reason he did not do so was because he lacked the funds and material required to carry out such an attack. The young man is currently imprisoned, with Assistant US Attorney Karen Gilbert arguing that he should never be released."He wanted to carry out an attack. If he is released from custody, he will," she told the judge. Qazi traveled to New York City in November to look for a job that would fund his terrorist plans, but was unable to find employment.The Florida resident was not the first man to make serious attempts at another New York City terrorist attack. In 2010, 30-year-old Faisal Shahzad tried to ignite a car bomb in Times Square. The plan failed after two street vendors saw smoke coming from the parked vehicle and alerted authorities, allowing them to disarm it before it went off."Times Square is an iconic location that draws a significant number of people every day," Kelly said. "New Year's Eve is the apex of that, so we have to plan accordingly."As thousands of partiers flock to Times Square this year, they will once again face increased security as the NYPD joins the gathering to search for terrorists they suspect could blend in with the crowd.