Elderly and pregnant attacked at OWS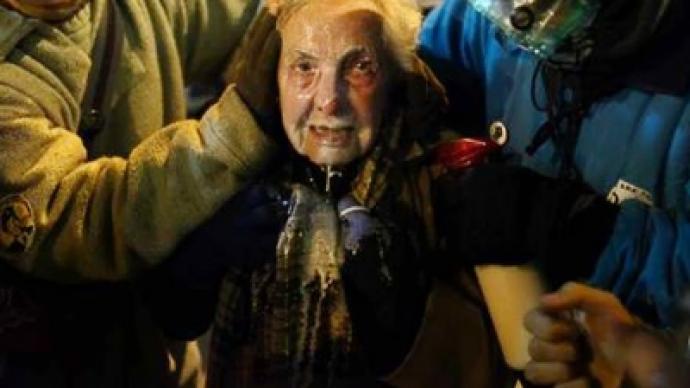 While eyes and ears across the globe were watching Occupy Wall Street protesters reclaim New York's Zuccotti Park Tuesday night, on the other side of the US police brutally cracked-down on other OWS encampments in San Francisco and Seattle.
In the aftermath of the raids that ravaged those two West Coast cities, more than a dozen protesters found themselves in jail cells, and both an elderly woman and a pregnant teenager tried to cope with the effects of overzealous and outrageous police assaults after surprise crackdowns carried out by police forces.In Seattle, Washington, a march through the city's downtown district late Tuesday turned grim after a pregnant 19-year-old girl who only gave her name as Jennifer was pepper-sprayed by police officers while participating in a peaceful protest. Vivid images of the girl crying in agony were captured while fellow demonstrators carried her to an ambulance so she could seek medical attention.
That same evening, Dorli Rainey, described by the Occupy Seattle movement as "a 4-foot 10-inch, 84-year-old woman" with ties to activist dating back decades, also became the victim of a pepper-spray assault from the Seattle Police Department.Responding to the outrage to the Associated Press, Seattle PD spokesman Jeff Kappel said that the weapon "is not age specific." Added Kappel, pepper spray is "no more dangerous to someone who is 10 or someone who is 80."
Fortunately for Occupy Seattle protesters, no 10-year-old children suffered the wrath of brutal police action during Tuesday's events, although organizers confirmed that a member of clergy was also assaulted with pepper-spray. Late Tuesday, Occupy Seattle confirmed that the pregnant woman was still in the hospital."Tell the Mayor and the Chief of Police that police are supposed to serve and protect the community and keep the peace, not attack people," responds Occupy Seattle in a statement posted to their website late Tuesday.
A few hundred miles down the Pacific Coast, police officers clad in riot gear raided three encampments that are part of the Occupy San Francisco protests in California's Bay Area early Wednesday morning. At around 1:20 a.m. local time, police stormed three separate tent compounds at the city's Occupy encampments. Protesters adjacent to a Bank of America building, the Federal Reserve Bank of San Francisco and in front of the One Market restaurant were surrounded by police and several tents were dismantled by police force. In front of the One Market restaurant on Mission and Steuart streets, seven people were arrested on suspicion of unlawful camping, but Cmdr. Richard Corriea tells the San Francisco Chronicle that they were all released shortly after being cited.
Hours later, however, most of the tents of the Occupy San Francisco movement remained in the other encampments in the city."They need to understand that we just get stronger with every raid," Alex Stevenson, 19, tells the Chronicle. Back in Seattle, authorities report that at least six were arrested there. In New York City, where a raid in the early hours of Tuesday temporarily evicted protesters from Zuccotti Park, more than 200 demonstrators were detained by police as well. On Thursday this week, protesters in Manhattan will celebrate the two-month anniversary of the Occupy Wall Street movement with a series of planned events, including an attempt to bring down the New York Stock Exchange.
You can share this story on social media: