Police kill 95-year-old man with bean-bag rounds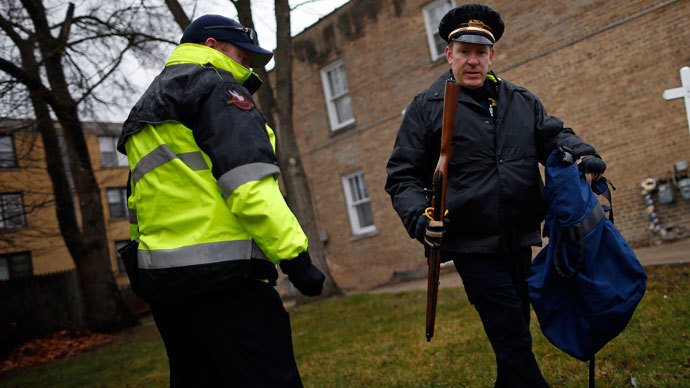 A 95-year-old Illinois man died in a violent confrontation with police on Friday after refusing to check into a medical facility. After threatening police with a cane and a knife, the senior citizen was Tasered and fatally shot with bean-bag rounds.
The Cook County medical examiner's office said John Warna, a 95-year-old resident of a senior living community in Park Forest, Ill., died of blunt force trauma of the abdomen after police shot him with bean bag rounds.
Police officers were called to the assisted living home on Friday to help employees of a private ambulance company involuntarily transfer Warna to a clinic for medical treatment. The senior citizen had allegedly threatened the facility's staff and paramedics with a metal cane and a 2-foot shoehorn because he did not want to check into the hospital.
When police arrived the scene around 8:42 p.m. Friday, they ordered the man to drop the items. Instead, he picked up a "12-inch butcher type kitchen knife," the Park Forest Police Department said in an e-mailed press release obtained by the Chicago Tribune.
Police told Warna to surrender and listen to their instructions. But when he refused, police stunned him with a Taser and shot him with bean-bag rounds. The senior citizen was still conscious and talking when he was then taken to the St. James Hospital and Health Centers and later the Advocate Christ Medical Center. But he died just a few hours later.
Warna was declared dead at 2:30 a.m. Saturday, and the Cook County Medical Examiner's office on Monday announced that he died of bleeding in the stomach from the blunt force trauma inflicted by the bean-bag rounds. His death was ruled a homicide.
Bean-bag rounds consist of a fabric filled with lead shot. The rounds can be fired from a regular shotgun, and are designed to deliver a blow that will leave the victim temporarily immobile. But when the rounds hit the chest, they can sometimes break the ribs and force the ribs into the heart. A shot to the head can cause a broken nose, neck, larynx or skull. And a shot to the abdominal area can cause internal bleeding.
Bean-bag rounds can be especially dangerous when fired at close proximity, and present a serious risk of death or injury when fired from less than 10 feet away. It is unclear how far police were from the 95-year-old before shooting him in the abdomen.
Neighbors at the senior living community told CBS News that there could have been better ways to disarm the old man and that the police response was unnecessarily violent.
"If they were smart policemen, one could have got in the front of that man and one could have went through back door and thrown a sheet over him, put him down and put the cuffs on him before they shot him," said neighbor David Atkins.
Administrators at the Victory Centre nursing home said they have never experienced any problems with the resident before
"Our thoughts and prayers are with the family as we mourn the loss of one of our own," Emily Powell, executive director of the Victory Centre, told CBS.
The Illinois State Police Public Integrity Unit is currently reviewing the case. Park Forest police have not yet commented on the incident.
You can share this story on social media: