Police admit that botched raid was brought on by cops' Internet ignorance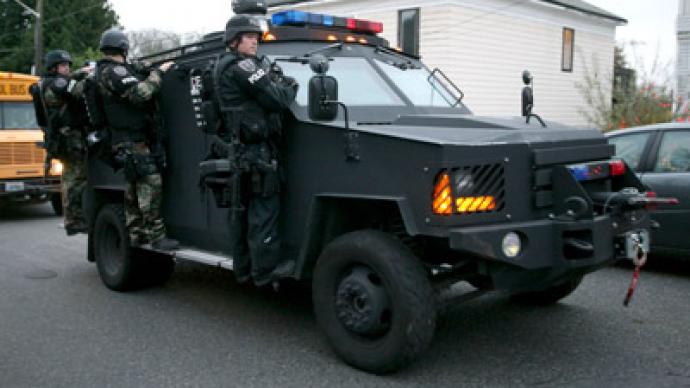 Evansville, Illinois police are backtracking after learning that a recent botched raid that ended with the home of an innocent grandmother being ransacked by the SWAT team could have been prevented if the authorities had actually done their homework.
The Evansville SWAT team was called in to aid in carrying out a search warrant on June 21 as part of an investigation into threatening comments waged against the police posted anonymously on the topix.com Web forums. When cops came to the home they assumed the messages were made from, though, they acted on little more than an assumption. In addition to breaking down a down and shattering a window, the SWAT team also exploded two flash stun grenades in the living room of a local grandmother who said that no one had ever been arrested in her home during the three decades she lived there.Explaining themselves at the time, the Evansville police said that they traced the IP address of the computer that made the comments to the home. Police Chief Billy Bolin told the Courier & Press that the messages threatening the lives of local police officers "definitely come back to that address" and that the cops had no way of knowing that they could have come from anywhere else.Now in the aftermath, Bolin admits that authorities knew seemingly nothing about the Internet before raiding the wrong house. Although the messages were posted from a computer connected to wireless Internet registered to 616 East Powell Street in Evansville, Bolin is now learning that that doesn't mean that only those within the home can hone in on the signal.According to a follow-up in the Courier & Press posted over the weekend, Bolin now tells reporters that the officers eventually altered their investigation to focus on neighboring 604 East Powell, but only after realizing that their original house had "an open IP," "meaning anyone with a Wi-Fi enabled device could access it."Authorities could have learned this if they tried to log-on to the network, which would not have asked them from a password. As the paper puts it, any smart phone, laptop or Wi-Fi ready computer device could have clued the authorities in that the culprit wasn't necessarily in the house. Days after the raid, they say they began investigating a neighbor at 604 East Powell Street — a person with a well-documented criminal record that includes a felony charge of intimidation and a misdemeanor charge of resisting law enforcement.Derrick Murray, 31, has been arrested by police for his role in making the threats. According to Google Maps, Murray's home at 604 E. Powell is roughly 174 ft. from the home where the Internet was being broadcast from.
You can share this story on social media: