'Anti-racists' take plea deal after assaulting Neo-Nazis in Illinois restaurant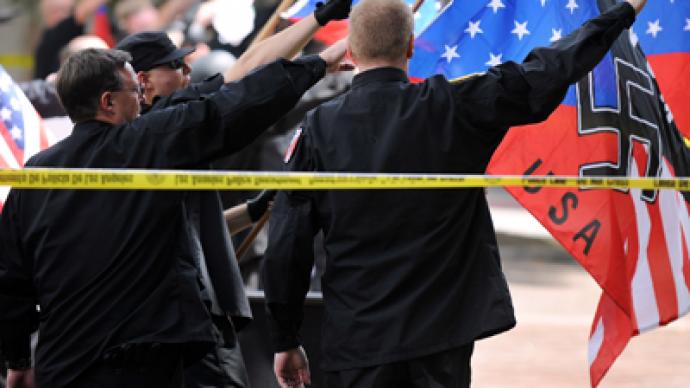 Five self-proclaimed "anti-racists" have pleaded guilty to a slew of charges stemming from an assault waged last year on a group of white supremacists inside of an Illinois restaurant.
The defendants — Alex Stuck, John S. Tucker and brothers Dylan, Cody and Jason Sutherlin — all agreed to take plea deals offered by the prosecution on Friday, closing the book on case that began with a bizarre beating within the walls of the Ashford House restaurant in Tinley Park, Il on May 19, 2012. On that day, Stuck, Tucker and the Sutherlin brothers entered the eatery along with around one dozen other members of the Hoosier Anti-Racist Movement, or HARM, cloaked in disguises and brandishing weapons, including steel batons and hammers. Their target, members of the Illinois European Heritage Association, had published details on the Internet confirming that they would be meeting at the Ashford House on that day. The Illinois European Heritage Association advertised for an event in the area that weekend on StormFront.org, a white nationalism forum that touts the slogan "white pride worldwide" on its website. Members of Heritage say they were meeting to discuss economics, not race, when the assailants stormed in."We were just meeting for networking and helping people out and finding resources available in our area for those of European descent," 29-year-old Heritage member Brandon Spiller told Tinley Park Patch after the incident. "It was just a meeting to get to know each other."Tinley Park Mayor Ed Zabrocki, who was not at the Ashford House but saw the event unfold on surveillance camera footage, told the Wall Street Journal that in his 31 years in office, "I've never heard of anything stranger.""You see the door opens up, these 15, 18 people walk in. They've got hoods on, they've got masks on," he said. "It's like you have someone from extreme left field and someone from extreme right field come to center field to fight — and Tinley Park was center field."Attorneys for the defendants were prepared for a lengthy court battle, but as concerns grew that the case could take ages to get off the ground, the "Tinley Park Five" all agreed to a non-cooperating plea bargain. The members of the group were initially charged with over three-dozen counts apiece, including charges of armed violence, mob action and aggravated battery. Under the terms of the deal, however, each of them pleaded guilty to only three counts of armed violence. The prosecution dropped all other counts in exchange for the deal, a maneuver that would have likely cost them another year of legal proceedings had they opted otherwise."I was very surprised when they said they wanted to take the plea … but I think they did the math, and if the trial didn't start for a year or six months, they might be out just as soon" as they would under the plea deal, Brian Barrido, an attorney for Dylan Sutherlin, tells the Chicago Tribune."They would rather just get it over with today," Barrido adds to the Tinley Park Patch.For taking the plea, the five men will serve sentences ranging from three-and-a-half to six years in prison, although all will be eligible for early release half-way through and will be credited for the 233 days they spent behind bars already. They'll also be stuck paying court costs, but only upwards of $587 apiece — attorneys for the defendants all provided their services pro-bono."I was honored to represent this man," Stuart Smith, attorney for John Tucker, said after the sentence was handed out. "He is a hero."After the May 2012 attack, police charged two of the victims with unrelated crimes. Steven Speers of North Dakota was arrested for having an outstanding warrant for possession of child pornography and Francis Gilroy of Florida was charged with unlawful possession of a firearm by a felon. Both men were attending the get together hosted by members of the Illinois European Heritage Association."We had no idea about the one who had the child pornography warrant," Heritage member and victim Steven E. Speers, 33, told Patch after the assault. "If we did, he wouldn't have been allowed to meet with us. The other one, he didn't know the (gun) law."Also involved in the incident but spared prosecution are roughly 12 other assailants who were caught on film during the attack. Commenting after the sentencing, attorneys for the defendants voiced opposition to the fact that prosecutors seemed unconcerned with both the other suspects and the members of the white pride collective walking away with their freedom."Obviously, violence is not an answer, but white supremacists are extremely hateful, violent people. Here we are, the state is prosecuting these five kids. Why aren't they looking after the white supremacists?" attorney Sara Garber, who represented Alex Stuck, asks the Chicago Sun-Times."All the Nazis at the restaurant have records, with violent felony backgrounds," Garber adds to Patch. "They had weapons, guns in their cars."Barrido, the attorney for Dylan Sutherlin, expressed disbelief towards the prosecution after the sentencing was handed down. "We don't know anything about those 13 other people, or if the state's attorney's office is still investigating them. Do I feel like justice was done today? Absolutely not," Barrido said. "They got the five they wanted and they'll close this case out. You'll never hear about it again."James Fennerty, an attorney representing Cody Sutherlin, said that sentencing won't necessarily do anything to make the defendants any difference once they are released from prison."They'll still be anti-racist and be against Nazis in any form, against people who don't respect people because of their color or the way they look," he tells the Sun-Times.
You can share this story on social media: