America's newest cause of racial outrage: pizza
Published time: 24 May, 2012 19:26
Edited time: 25 May, 2012 21:11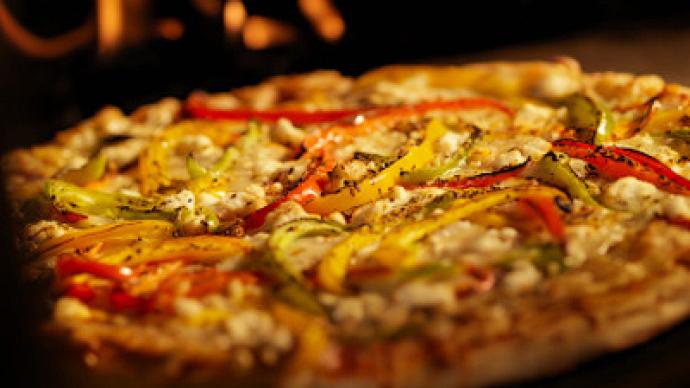 Never in the history of modern civilization have people been so divided over pizza. Until now, that is. A chain of take-out pizza joints is the center of controversy over plans to hand out free pies next month when orders are placed in Spanish.
The Dallas, Texas-based Pizza Patrón chain will offer free pies on June 5 at all 104 of their nation-wide outlets. Yes, there is a catch, and while it might not seem all that strange to some, angry Americans are boycotting the eatery over the promotion.
Pizza Patrón plans to give away 80,000 pies during the three hour window of the promotion, extending freebies to anyone that orders in Spanish.
"People (just) need to ask for the pizza in Spanish," Jose Miguel Dominguez, the owner of four Houston, TX locations, tells local KHOU 11 News. "Pizza is universal in every language so all you really need to learn is 'por favor.'"
"If they come and order in Spanish, 'Pizza por favor'  or 'Quiero pizza,' we're giving it away free," Pizza Patrón Franchisee Randy Schmidt adds to Denver, Colorado's CW 2.
No matter which way you slice it, though, many outspoken customers of the chain aren't all that enthused.
"It seems to punish people who can't speak Spanish, and I resent that," Peter Thomas, chairman of the Conservative Caucus, tells USA Today. "In public areas, people should be speaking English, and that includes pizza parlors."
Thomas' sentiments are echoed across the country by droves of pie-craving Americans crying foul over the promotion. Responding to Houston's KHOU, Cybthia Richardson complains, "I don't know the words to order in Spanish." Pizza Patrón's brand manager, Andrew Gamm, even explains though, that customers don't need to bone up on their studies to speak a few words of Español.
"If you don't speak Spanish, come on in. We'll give you the phrase and make sure everyone that shows up walks away with a pizza," Gamm tells ABC News.
"It's my understanding that you have to at least say 'Pizza Por Favor,' which I'm sure the counter staff will coach someone on if they've never uttered a word of Spanish," Sandy Bell, a spokeswoman for the change, adds to The El Paso Times.
To call it a tall order would be an exageration, for sure. Still, that's not enough for some, who have instead panned the pizza chain over the promo.
"It's not fair to the rest of the people," would-be customer Robert Thompson tells KHOU News."This is America. Now, if this was a Spanish-speaking country, then it would be nice. But, I speak Spanish and I don't like it."
"I don't know [any] Spanish and I don't want [anything] from Pizza Patrón now if I have to say it in Spanish," another angry customer, Felicia Shepard, tells the station.
Off the streets and on the Web, outspoken critics have taken to the official Pizza Patrón Facebook page to let the chain know how they really feel. And behind the anonymity of the Internet, some angry opponents are far from holding back.
"This is the USA not Mexico. Its racist that you are rewarding people who order in Spanish….speak English or leave," reads a public post from Kathleen Mauricio of Channelview, Texas.
"You will NEVER get my business this is America and people should assimilate and be encouraged to assimilate into our culture," adds Fresno, California's Robert Fisher.
Other comments, like Susan Thibault's plea, have generated dozens of responses on their own. Lashing out at the chain on their Facebook wall, she asks, "Seriously? In Spanish? What is it a mexican Pizza? Its outragous [sic]. I hope ICE pays you a visit."
The restaurant's management explain from their Dallas headquarters that their intentions are not discriminating ones. In fact, to them it just makes since. Brand Director Andrew Gamm tells USA Today that around 70 percent of their customer base is Spanish speaking, and in a press release says the promotion is happening to honor a "positive force of change immigrants have made in communities throughout America."
"It makes perfect sense for us," Gamm adds. "We're trying to make our bond with the Hispanic community stronger."
Some leaders of the Hispanic community have even voiced concerns with the gimmick though.
"Maybe they thought it was a cute thing to do, but I think it's discrimination," Marcela Gomez, president of Hispanic Marketing Group, a Latino marketing firm in Nashville, tells USA Today. "As an advertising agency, I would never recommend this to my client."
Others in the industry disagree, including Janina Ferguson of Calderon Advertising and Public Relations. She tells KWGN News that "It's a good marketing tactic," and says it makes perfect sense.
It tells their customers, "Hey, we understand your challenges. We speak your language," Ferguson says, "If they can order and feel comfortable ordering pizza in their own language, they're going to call back again."
Even with free pizza in the picture, others aren't sold. Thankfully, many people — pizza eaters and otherwise — understand the ridiculousness. Lisa Navarrete of the advocacy group National Council of La Raza tells USA Today, "For people to get offended or upset at this seems a little bit silly. It doesn't preclude anybody. Anyone can say, 'por favor.' "
And really, those two words are as easy as pie. But for those that don't want to tackle a foreign tongue? They can pay $4.99 for a large cheese and pepperoni pie from Pizza Patrón like any other day.