NYPD involved in online scandal again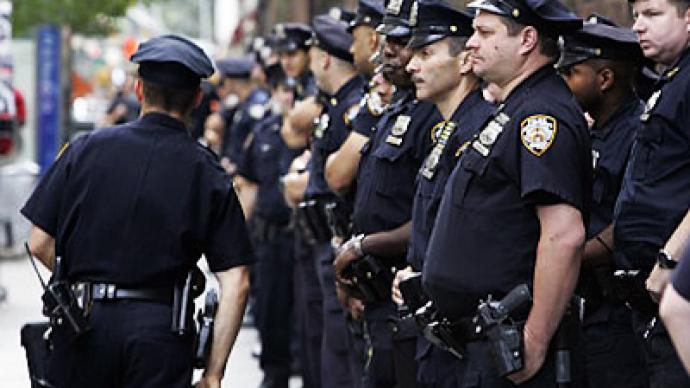 New York City Mayor Michael Bloomberg has defended the NYPD for their actions on Occupy Wall Street demonstrators, even if they did beat peaceful protesters and arrest accredited journalists.
Now it looks as if New York's Finest bragged about the battery before it even began.A Facebook profile allegedly registered to New York Police Department Officer Michael DeRosa, Sr. shows correspondence between a couple cops from November 17, 2011, a massive day of action for the Occupy Wall Street movement which marked the campaign's two month anniversary. Before heading out for work with the "Brooklyn Bridge Arrest Team," DeRosa posted on his own wall, "On my way to wall street…..Let the savagery begin….Hey Aaron see its not a racist statement!"DeRosa's comment is clearly a reference to another online scandal dealing with race that was reported by RT last month. At the time, several profiles allegedly registered by NYPD cops were linked to a public Facebook group where officers made bigoted remarks against parade goers during the annual West Indian Day festival.On DeRosa's public profile this time, another suspected officer, Rey Hernandez, responds, "wish I was there with you guys..it would be nice to crack a white guy over the head.""LMAO," adds Hernandez.Another Facebook friend of DeRosa adds to the posting, "Lock one up for me!"In the case of the West Indian Day Facebook incident, cops with names matching those involved in the posting distanced themselves from the racist diatribes and largely denied involvement in the group. Reporters have attempted to reach out to the NYPD for confirmation in the latest incident, and while the names have not been concretely linked to cops just yet, a man named Wayne Rhatigan responds to DeRosa asking where he is during the November 17 protests. Rhatigan's name matches that of a NYPD officer.NYPD Commissioner Ray Kelly said earlier this month that he would launch an investigation into the officers involved in the No More West Indian Day Detail Facebook group and said that "It is disturbing when anyone denigrates a community with hateful speech. It is unacceptable when police officers do it."No matter what the investigation yields, given standard operating procedure for the NYPD it should be expected that anyone involved will enjoy a little paid vacation as a probe opens up. DeRosa has since shut down his formerly-public profile.
You can share this story on social media: