Philadelphia cop charged for sucker punching woman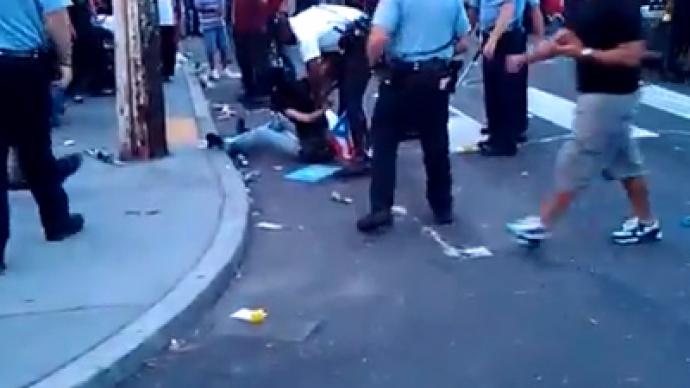 A former police lieutenant who punched a woman in the face at a Philadelphia street party was charged with simple assault on Thursday
Jonathan Josey, who was a veteran police supervisor at the time of the incident, was responding to a notice of a rambunctious street party in north Philadelphia. The street festival was in honor of the city's annual Puerto Rican Day Parade. There were reports of a driver doing doughnuts with his car, as well as people throwing water and shooting "silly string" at police.
Aida Guzman, a 39-year-old mother, was among the crowd when Lt. Josey punched her in the face, causing her to fall down. With her face and arm bleeding, the woman was then led away in handcuffs. Her lip had a gash and her elbow was bloodied from falling.
"After he hit me, he didn't even ask if I needed to go to the hospital," Guzman told CBS News.
After leading her away, the police charged Guzman with disorderly conduct, but later retracted that charge when a 36-second YouTube video of the incident surfaced, which went viral.
District Attorney Seth Williams said the woman had not posed a threat.
"The use of force was not necessary in that circumstance," he told the Associated Press. "That behavior was not necessary and not justified."
The officer has since been fired from his job. He was charged with simple assault on Thursday, a decision that Police Commissioner Charles Ramsey agrees with.
"We have to always be mindful of the fact that we have a responsibility not to overreact, even in tough situations," the commissioner said.
Josey's lawyer said he hopes his client will be able to be reinstated in the police force after receiving his punishment. Attorney Fortunato Perri Jr. said he believes the video sensationalized the way the officer acted at the festival, which he hopes others will notice.
Guzman received a personal apology from the mayor Michael Nutter, who said he was sickened by the way the policeman acted.
But the attack on Guzman left her angered and fearful. She told CBS reporters she's not sure if she would feel safe attending the Puerto Rican street festival again in the future, even though she has been going every year for the 19 years that that she has lived in the US.