Six killed, several missing in Philadelphia building collapse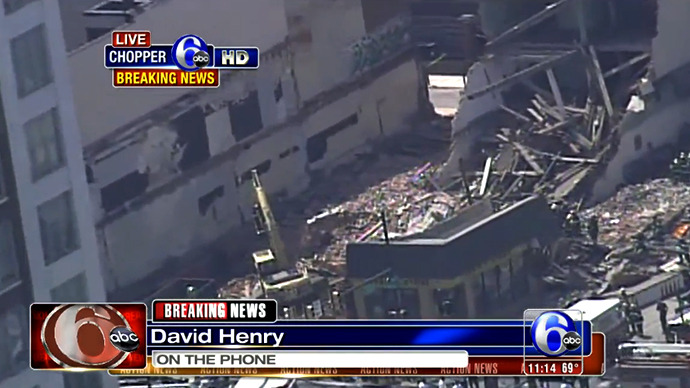 A four-story building has collapsed in central Philadelphia, killing five women and one man and injuring over a dozen. Rescuers have pulled 13 people from the rubble.
The accident occurred at 10:45am local time in a pair of four-story buildings, reportedly slated for demolition, on the corner of 22nd and Market Streets.

A Salvation Army thrift store on the corner was also affected by the collapse as debris came through its roof.

A dozen people have been rescued from the rubble. They all sustained minor injuries and were  transferred to the city's Hahnemann, Jefferson and the University of Pennsylvania hospitals.

Philadelphia Fire Commissioner, Lloyd Ayers, told the press that two more people remained in the rubble, with the rescuers working to extract them.   

Shortly before 1pm, a 66-year-old female was pulled from the debris alive.

At about 2pm, the emergency workers removed the body of the deceased victim from the Thrift Store, whose identity wasn't revealed. Crews continued to dig with the help of search dogs to see if anyone else remained trapped beneath the rubble. They found five more bodies in the rubble Wednesday night but have not yet revealed their identities.

Parts of Market Street and 22nd Street near the scene of the collapse have been closed to traffic.

Building collapse at construction site downtown Philadelphia twitter.com/Lescarpenter/s…

— Les Carpenter (@Lescarpenter) June 5, 2013
JUST IN: Police respond to building collapse in Philadelphia bit.ly/14w9cez#abc15twitter.com/abc15/status/3…

— ABC15 Arizona (@abc15) June 5, 2013
BREAKING UPDATE: Building collapse in Philadelphia, @nbcphiladelphia reporting 8-10 people trapped twitter.com/NewsBreaker/st…

— NewsBreaker (@NewsBreaker) June 5, 2013