Murdoch wanted to bankroll Petraeus' presidential campaign; Fox News chief wanted to run it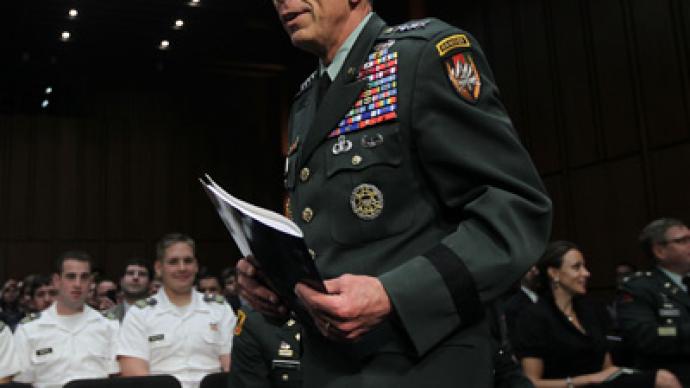 The president of Fox News sent a reporter to Afghanistan with a message for Gen. David Petraeus shortly before he was appointed head of the CIA in 2011: News Corp. thinks you should run for president.
Both Roger Ailes, the head of Fox News, and Rupert Murdoch, the CEO of parent company and media conglomerate News Corporation, were interested in seeing Gen. Petraeus toss his hat into the 2012 presidential race. The news comes courtesy of a just published recording of a conversation between Ailes and Fox News national security analyst Kathleen T. McFarland that was provided to the Washington Post. Bob Woodward, a longtime Post journalist and one of the reporters credited with exposing the Watergate scandal of the Nixon administration, was given access to the audio and reports this week on a presidential ticket that may have almost been.According to Woodward's take on the tape, both Ailes and Murdoch floated the idea of endorsing Gen. Petraeus as a presidential contender, at least to some degree, and the Fox News chief urged McFarland to make their intentions known on the then-commander of US troops in Afghanistan during a Spring 2011 interview.The "advice to you from Roger Ailes is. . . . He says that if you're offered [JCS] chairman, take it. If you're offered anything else, don't take it; resign in six months and run for president," McFarland says in the recording."I'm only reporting this back to Roger. And that's our deal," she told him, to which Gen. Petraeus responded that any answer "has to be off the record.""His deal with me was that I was only supposed to talk to you," McFarland said. "And he is a little paranoid, so believe me, he doesn't have anybody in that room.""Tell him if I ever ran," Petraeus told her in a light-hearted tone, "but I won't . . . but if I ever ran, I'd take him up on his offer.""He said he would quit Fox . . . and bankroll it," the general told her"Bankroll it?" McFarland asked."Or maybe I'm confusing that with Rupert," Petraeus responded."I know Roger, he's done okay," McFarland countered, "but . . . no, I think the one who's bankrolling it is the big boss.""Okay," McFarland said, "the big boss is bankrolling it. Roger's going to run it. And the rest of us are going to be your in-house."Since being provided with the audio recording of the encounter, the Post has reached out to all parties involved to find out if any of the matters discussed were seriously considered by either Petraeus or the president of Fox. Murdoch, who is no stranger to stirring up matters within US politics, did not respond to calls for comments by the Post.Weighing in with Woodward, though, Fox chief Ailes says he thinks McFarland made more of a to-do with his request than he intended."It was more of a joke, a wiseass way I have," he said. "I thought the Republican field [in the primaries] needed to be shaken up and Petraeus might be a good candidate."Ailes added, "It sounds like she thought she was on a secret mission in the Reagan administration. . . . She was way out of line. . . . It's someone's fantasy to make me a kingmaker. It's not my job."On his part, Petraeus never had to quite consider the offer, serious or not. Within weeks he was appointed the head of the Central Intelligence Agency, a post he held until just last month when he resigned amid a highly publicized sex scandal.
You can share this story on social media: