Pentagon stops giving out free guns to police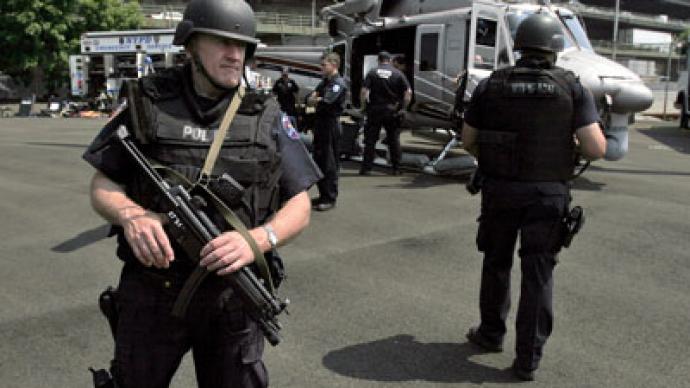 A Pentagon-led program that equipped more than 17,000 police and sheriff's departments across the country with military-grade surplus weaponry will be put on hold while auditors try to account for $2.6 billion worth of handouts.
The US Department of Defense made a surprise move on Friday when they announced that the Pentagon program responsible for supplying local law enforcement agencies across America with armored cars, automatic weapons and even aircraft is being temporarily halted while an investigation tries to locate items issued during the last few years of the initiative. Defense Logistics Agency spokesman Kenneth MacNevin tells the Associated Press that the audit was not triggered by any specific incident, but news of the change in procedure comes after a handful of stories made it to the mainstream media in 2012 alleging mismanagement of the weapons. The agency says that they temporarily suspend the arms program as they take inventory of their last round of handouts, but that could be a major chore until itself: last year the Pentagon gave away half a billion dollars' worth of military gear through the agency's Law Enforcement Support Office."Leadership decided to make sure we have a good, full accounting for all of this," MacNevin tells AP. "We're not doing this based on any thought there's a problem. We're doing it because accountability is accountability."Only one month earlier, however, accountability was an issue being brought up for discussion in rural Arizona, where the Pinal County Sheriff's Office was in the spotlight for its relationship with the Law Enforcement Support Office. The Arizona Republic newspaper was able to uncover documents suggesting that Sheriff Paul Babeu's office has been handed more than $7 million worth of Humvees, fire trucks, guns, defibrillators, barber chairs, underwear, thermal-imaging scopes, computers, motor scooters and more from the Pentagon — but not before trying to sell them on the street for extra cash."[I]nternal e-mails obtained through public-records requests by The Republic show sheriff's officials touting their ability to get products from the Defense Department at no cost and to fortify their finances by selling the goods at auction," reported the paper last month. "In a budget presentation to Pinal County supervisors in March, Babeu said he intends to balance his budget in part by auctioning equipment procured from the military."Responding to a request by the AP to comment on the Pentagon's pulling of the plug, Payson, Ariz Detective Matt Van Camp, claims, "I don't have any info on if something triggered" the DoD's order."All I know is Arizona is 100 percent compliant on weapons inventory," adds the officer, who oversees the state's relationship with the Defense Logistics Agency program.The Pentagon fell just short of giving away $500 million worth of gear to small-time agencies last year, including 15,000 weapons worth nearly $3.8 million.