Pentagon doctors claim military suicides not related to combat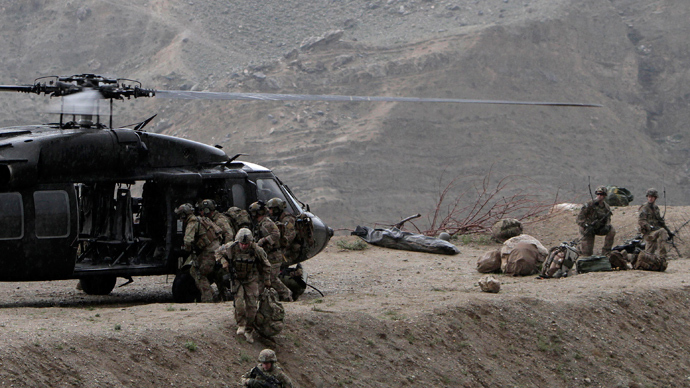 Deployments to war zones and combat exposure have no effect on military suicides and fail to explain the increase in self-inflicted deaths that occurred from 2001 to 2008, according to a new medical study which contradicts previous research.
Military medical researchers on Tuesday published a paper that claims mental disorders such as depression and alcohol abuse are to blame for military suicides – not combat. Record numbers of US service members killed themselves last year, with 350 taking their own lives. From 2011 to 2012, the military suicide rate increased by nearly 16 per cent. Anti-suicide organizations fear the number could increase because troops withdrawn from Afghanistan are "not effectively integrated into suicide-prevention efforts," Kristina Kaufmann, executive director of Code of Support Foundation, told NBC after the figures were released in January.
And it appears that the rate is continuing to rise. In 2012, a service member committed suicide every 25 hours, but that rate has since increased to one suicide every 18 hours. The annual number of suicides last year surpassed the number of troops killed in Afghanistan and the number of military members who died in transportation accidents in 2012.   
But the authors of the surprising new medical study, which was financed by the Defense Department and published by the Journal of the American Medical Association, claim that military members kill themselves for the same reasons ordinary civilians do.
The researchers said they tracked 150,000 soldiers between 2001 and 2008, and found that those who killed themselves were usually heavy drinkers, suffering from depression, or had been diagnosed with manic depression. It remains unclear whether their deployments or combat exposure prompted their mental conditions – an important fact that could shed further light on the military's effect on its members.  A 2011 study published by the Journal of Psychiatry Research concluded that deployment increases the likelihood of self-destructive behavior and psychiatric problems. The report also showed an increase in mental illness among those in active duty service since 2005.
But this week's study found that those who were deployed for longer than a year had a lower risk of suicide. As a result, the researchers suggested that rather than seek an early discharge, depressed soldiers should remain in the military and seek mental health care – a procedure that could put soldiers' careers on the line, but that Col. Charles Engel of the Army Medical Corps believes would be more effective than an early discharge.
"The answer has to be an effort to approximate civilian standards of confidentiality," Engel told Bloomberg News. "Unless we're dealing with an imminent risk to combat or a tactical mission, really we should be using civilians' standards."
But the sharpest increase in the suicide rate occurred after 2008 – a period which the military study failed to examine. Critics claim that because the analysis ended at the time the suicide level dramatically spiked, it might underestimate the impact that multiple deployments and traumatic brain injuries may have on military service members.  
"Why would the authors repeatedly insist that there is no association between combat and suicide?" Dr. Stephen N. Xenakis, a psychiatrist and retired Army brigadier general, said to The New York Times. "The careful analysis of bad data generates poor evidence."
You can share this story on social media: