Feds charge New York prison official with denying help to dying inmate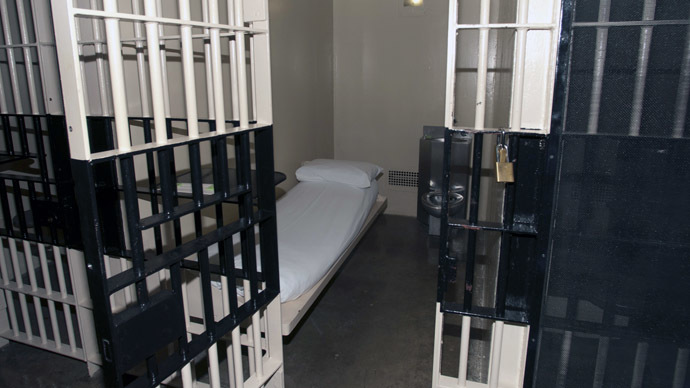 An officer at a New York City prison has been arrested after a federal complaint was unsealed in which it's alleged that he refused medical treatment for several hours to a dying inmate being held at the facility's Mental Health Assessment Unit.
Terrence Pendergrass — a 49-year-old Rikers Island Department of Correction officer — was accused Monday afternoon of "deliberately ignoring the urgent medical needs" of an inmate at the facility, according to a statement released this week by the Federal Bureau of Investigation, and charged with one count of deprivation of rights under the color of law. He was released from police custody after posting $250,000 bond and faces a 10-year maximum prison sentence if found guilty.
According to the FBI's complaint, Pendergrass allowed a prisoner being held at Riker's Mental Health Assessment Unit for Interacted Inmates, or MHAUII, pass away in August 2012 by refusing the man's repeated pleas for medical assistance after he swallowed a highly toxic "soap ball" distributed by a rookie guard to deal with sewage flooding inside the facility. Prison policy mandates that the soap-balls be diluted in several gallons of water before being handed out to inmates.
The inmate, 25-year-old robbery suspect Jason Echevarria, had been admitted to the MHAUII following multiple suicide attempts, the complaint reads, including one instance in which he swallowed a battery.
Echevarria began complaining of illness at around 4:30 p.m. on August 18, the FBI claims, after he told a corrections officer that he ingested the detergent ball and needed help. But according to that complaint, Pendergrass rebuked the concerns of a guard who witnessed Echevarria fall ill and instead told him not to ask for help unless an inmate either needed to be extracted from a cell or there was a dead body involved.
At least three prison employees voiced their concerns, but Pendergrass reportedly deemed Echevarria's illness as "bullshit," even though corrections officers witnessed the inmate's face turn colors, heard his cries for help and encountered vomit on the window of his cell.
Pendergrass continued to deny Echevarria treatment until his shift ended at 11 that evening, the complaint alleges, and the inmate was found dead the following morning. Pendergrass was demoted the following July and remained on the city's payroll up until this week's arrest.
In a statement released by the FBI on Monday, prosecuting US Attorney Preet Bharara said: "Jason Echevarria should not have died."
"As alleged, Terrence Pendergrass abused his power as a Rikers Island captain in charge of a vulnerable population of inmates with mental health issues by denying Echevarria access to medical care despite his obvious and urgent medical need for it," Bharara said. "The Constitution protects the civil rights of everyone, including prison inmates at Rikers. The kind of conduct alleged today cannot be tolerated in our criminal justice system."
Last March, the Bronx District Attorney's Office said they wouldn't prosecute any Rikers employees for Echevarria's death, even though it had been ruled a homicide. An autopsy determined that the inmate suffered internal burns and scarring along his esophagus and his trachea after consuming the ammonium chloride soap-ball.
"We just didn't have sufficient evidence to move forward," Bronx DA spokesman Steven Reed told the New York Daily News at the time. "We felt there was insufficient evidence to prove that their conduct rose to the level of criminal liability," he said.
In October, the inmate's father filed a $20 million wrongful death suit against the City of New York, and told the Daily News he was "shocked" that the DA's Office declined to file charges.
"I don't know why that captain is still working," Ramon Echevarria told the paper. "Just because he has a badge doesn't give him the authority to deny them medical attention."
The FBI agreed, and launched an investigation of their own that culminated in Pendergrass's arrest this week.
"The public's trust in law enforcement officers to enforce the law and ensure justice should never be abused. Sadly, as alleged, Mr. Pendergrass took his authority as a supervisory correction officer to the extreme and violated the rights of an inmate in his charge to the point that it resulted in death," FBI Assistant Director in Charge George Venizelos added in Monday's statement. "The FBI is the lead federal agency to investigate such abuses of power and it remains one of our top priorities."
Patrick Ferraiuolo, the president of the Correction Captains' Association, told Reuters that the allegations were fabricated and that the guards were lying to avoid blame.
"We believe that he really was railroaded in this," he told Reuters.
Raymond Castro, the Rikers guard who said he was told by Pendergrass "Don't call me if you have live, breathing bodies," was fired shortly after Echevarria's death at the same time that his former supervisor was demoted. He filed a wrongful termination suit in Manhattan Supreme Court last November.
Pendergrass worked as a correction officer for 18 years, Reuters reported this week, but was on a year-long probation period at the time of the incident since he had been newly promoted to captain. Before his demotion to correction officer, the Daily News reported, he earned $103,945 a year. He was making roughly three-quarters of that after being demoted and up until his termination this week.