Ron Paul wins support of the military while Obama cashes in on war-profiteers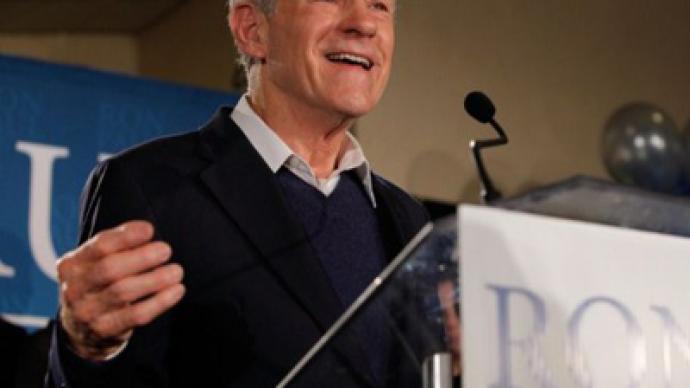 Defense contractors are pumping money into the campaign for President Obama as he runs for reelection, but one of his biggest competitors, Ron Paul, is cashing in on his opposition to militaristic imperialism.
In South Carolina where the next Republican primary is slated for the coming days, Texas Congressman Ron Paul is gaining support for his anti-war views, despite the rhetoric being heard in a state largely dependent on the military-industrial complex. The Department of Defense has a number of bases in South Carolina and the economy of the state is driven by-and-large by the role the military has. Non-interventionist ideals held by Rep. Ron Paul would be expected to fall on deaf ears there, but on the contrary, the candidate remains within the top-tier of politicians vying for the GOP nomination.After surging to second place in the New Hampshire primary last week, Congressman Paul delivered a roaring address to supporters in which he plead that he doesn't want to discontinue America's military superiority. Rather, said Paul, he wants to end America's reliance on the war machine to corruptly generate profits and endure unnecessary wars.Speaking from Manchester, New Hampshire, Paul attacked the Federal Reserve, saying it "was established, to take care of the powerful interests, the military industrial complex, the banking system and deficit financing.""In the last 10 years, the wars that have gone on have added $4 trillion of debt. And I don't think we have been one bit safer for it. I think we have been less safe because of all the money that we have spent overseas," said Paul. "So often they say that if we tell people that we think we should spend less in the military, they say, 'Oh, that means you want to cut defense.' No, if you cut the military industrial complex, you cut war profiteering, but you don't take one penny out of national defense."To gauge just how much success his ideas have garnered among the Armed Forces, Paul's campaign has collected $95,567 in contributions from individuals employed within the US military or Department of Defense between January 2011 and September. That number not only outweighs donations made by servicemen to President Barack Obama, but shatters statistics relating to the other Republican Party frontrunners. Mitt Romney, for instance, only managed to gather $13,300 in campaign contributions by donors who listed the military as their employer. Rick Santorum, who has since slipped out of the top-tier, only collected $750 in that span.Those that pump money into the DoD — the third parties that grease the wheels of the war machine — have shown that their support lies with President Obama. By the end of December 2011, Barack Obama raked in around $112,000 from defense industry donors. Paul, by comparison, only took in $50,000. In regards to those fighting the wars, Paul has collected around $20,000 more than Obama from employees of the US military.
You can share this story on social media: