Patient's medical procedure sets off nuclear alarm in Chicago transportation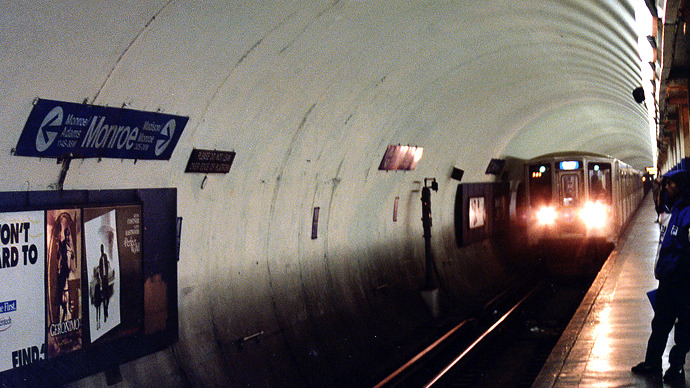 Federal agents stormed through a Chicago train on Thursday, probing for a nuclear threat. After searching bags and questioning passengers, the TSA's VIPR team discovered that they detected radiation from a man who had undergone a nuclear stress test.
"Does anybody know who's bag this is?" agents from the elite Transportation Security Administration's VIPR team said as they raided the 5:04 p.m. Union Pacific West line train. Carrying hand-held nuclear detection devices that had picked up a reading, the agents spent 15 minutes swarming the Metra train in search of what they thought was a nuclear threat, CBS News reports.
CBS photojournalist Lana Hinshaw-Klann captured a video of the raid using a cell phone camera, which shows federal agents holding the train at a station in Ogilvie while narrowing down their search.
"Sir, do you have an explanation as to why I am getting a high isotope reading on your bag?" an officer asked a man on the train, who looked perplexed.
Meanwhile, Chicago attorney Jerry Jones, who was sitting beside the agents' target, realized that he was the one they were looking for – but throughout the raid, he was just as confused as everyone else on the train.
"I had no idea I was the center of the activity," he told CBS.
Earlier that day, Jones went to a hospital to undergo a nuclear stress test, which is also known as myocardial perfusion imaging. The test examines the patient's flow of blood to the heart, and patients frequently admit radiation for several hours – sometimes days – after the test.
Jones raised his hand and told the TSA agents that he had undergone a nuclear stress test that morning. Passengers were allowed to leave the train only after Jones showed the agents an identification card and proof of the nuclear test. Patients who have had a nuclear stress test are often given a card to show security officers, in case they get stopped at airports or other high-security areas.
While some may have been annoyed at the holdup, Jones told CBS that he was happy "knowing there are people on the lookout for this type of thing." He believes that agents must have picked up on the radiation as he entered the train station, and traced it all the way to his cabin.
The elite TSA VIPR team was created after the 2005 train bombing in Madrid. The team is employed to protect US public transportation and "can be deployed at random locations and times with local authorities to deter and defeat terrorist activity", the agency writes on its website. "TSA routinely conducts thousands of VIPR operations each year in transportation systems nationwide."
You can share this story on social media: