Koran-burning pastor puts Obama through a noose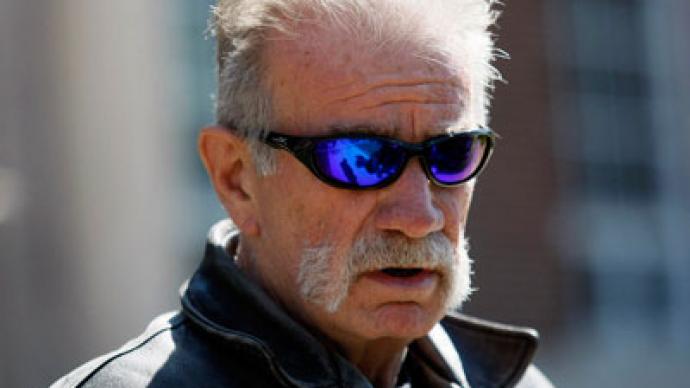 Florida pastor Terry Jones found a way to outdo himself that may in fact be more head-turning than burning copies of the Koran. The US Secret Service is investigation Jones after he lynched a dummy of President Obama outside of his church.
The Secret Service confirmed on Friday that the president's personal security force has been made aware of Pastor Terry Jones' latest endeavor after photos published online this week were tied to Dove World Outreach Center, the New Testament church he operates in Gainesville, Florida. In his latest headline-grabbing stunt, Jones outfitted the front yard of Dove with an elaborate gallows. Photos have since circulated of dummies decorated to look like US President Barack Obama and Uncle Sam hanging from the display by a bright yellow noose, their corpses dangling above both the American flag and the flag of the gay pride movement.On a YouTube video published to the Web on Wednesday, Jones offers a little bit of insight as to what inspired his latest installation:"President Obama's policies on same-sex marriage, his policies on abortion, President Obama has no problem killing babies," rants Jones. "He has no problem supporting radical Islam, he has no problem supporting and giving financial support to the Muslim Brotherhood…""It is time again for America to become America, for us to hold our government accountable, for us to resist, for us to send a very clear message to Washington, D.C. and President Obama… That is why we have chosen to hang President Obama as a symbol of what America needs to do. We must remove him, we must vote him out of office," concludes the pastor.Also on the grounds of the Dove Center is a parked tractor trailer decorated with the slogan "Obama is Killing America." Nearby, Jones has constructed a makeshift billboard decorated with the likeness of the prophet Mohammad. Journalist Rich Abdill of local Broward Palm Beach New Times adds in his own report that area members of Jones' church have confirmed that the effigies were authorized by the Dove Center and that Pastor Jones is expected to shortly announce his candidacy for the presidency of the United States.
You can share this story on social media: